Fundraiser fully funded at $3,000!
All donations up to the amount above will go to this project. Any donations above said amount will be used for similar preservation and history projects in the future.
End date and time: March 10, 23:59:59 EST
Guest blog post by the e-Reader Crew
The Nintendo e-Reader.
A forgotten treasure for the Game Boy Advance.
The Nintendo e-Reader was primarily designed to act as a gateway for DLC (downloadable content) through the use of collectible cards. Each card, known as 'e-Reader Cards', was embellished with a printed pattern referred to as a 'dot code', in addition to an image representing the game the DLC was for.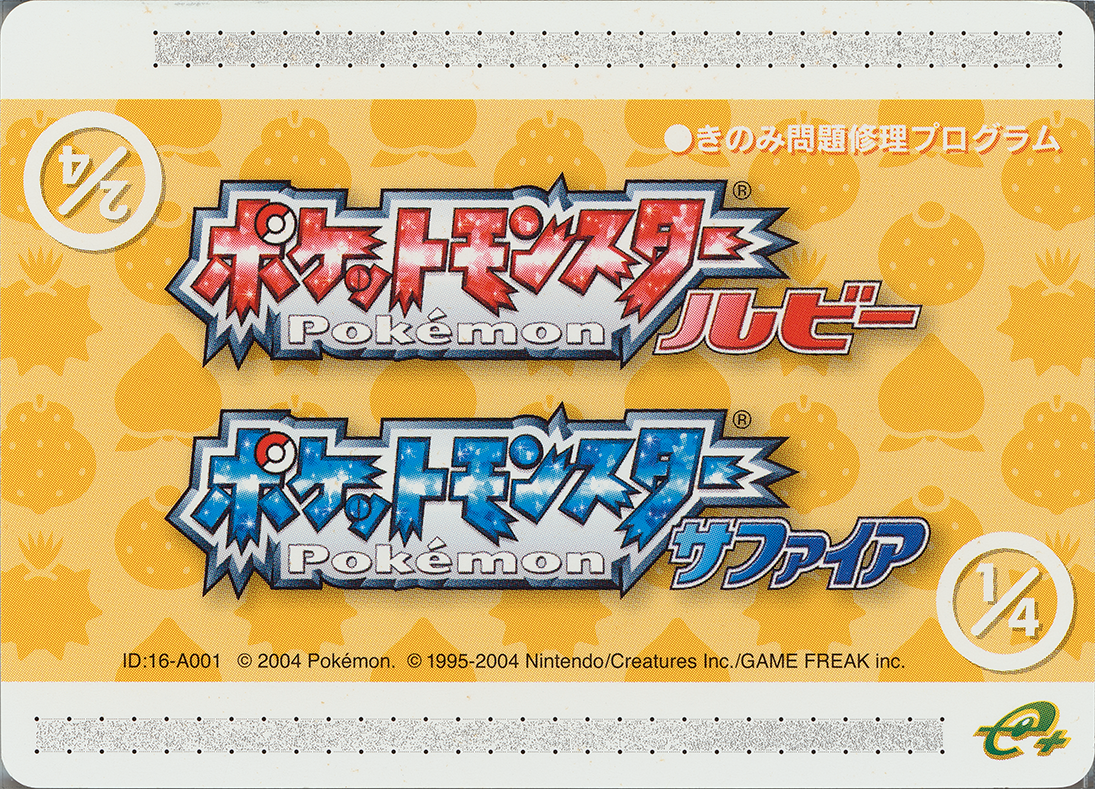 When swiping a card through the e-Reader, this dot code could be read and converted to digital data, which allowed the content to be imported or unlocked in the associated Game Boy Advance game. Perhaps the most well-known example of this was  the Eon Ticket for Pokémon Ruby & Pokémon Sapphire versions.
There are over 3,000 cards in the Nintendo e-Reader library, many of which were only released in Japan. e-Reader cards had a variety of distribution options, from simple store-bought booster packs to exceedingly rare Japanese-only Club Nintendo cards. There were even cards which were exclusive to attendees of E3 2002 in Los Angeles. Some cards (assigned a unique ID and data) were not made commercially available at all, and were only distributed to a select number of stores in Japan for demonstration purposes.
18 years later, what has happened to the Nintendo e-Reader library?
e-Reader cards are especially susceptible to wear-and-tear, as they are not housed inside a cartridge or a disc, both of which provide a modicum of protection from the outside world. You can find many e-Reader cards on auction sites today with no further protection beyond the cardboard they were printed on. Bends, scuffs, scratches, and tears are not uncommon. Coupled with the extreme rarity and price of some of these cards (some reaching prices of tens of thousands of dollars), it's a wonder as to how much longer they'll be around.
There hasn't been much attention placed on the documentation and preservation of e-Reader cards from the wider community, with some cards still remaining unaccounted for on lists such as No-Intro's DAT-o-MATIC. This lack of attention is surprising, considering that a great many cards contain exclusive data for various well-known franchises such as Mario, Pokémon, Animal Crossing, and Mega Man.
Those within the e-Reader Project would like to change that.
What started out as a few like-minded individuals discussing their collection has turned into something much more in just a couple of years. As we started talking about our collections, No-Intro's undumped list became a topic of conversation, and we began to wonder when, if ever, those cards would see the light of day and to what degree people were actively attempting to tick them off.
And as time passed, that question began to evolve into another; "Why not us?". So we did.
The "e-Reader Crew" is a (now larger) group of preservationists with a very big goal: To catalogue and verify every e-card in the Nintendo e-Reader library.
One of the major ways we intend on accomplishing this is through the use of 3200 DPI scans.
We settled on such a high resolution because it allows both the rosette pattern (also known as halftones) from the printing process and the dot code itself to be captured clearly.
For consistency, all scans are being performed using an Epson v600 scanner with a color calibrated profile via SilverFast; professional scanning software. Every unique side of an e-Reader card will be scanned in 3200 DPI at least once. We've also had custom cuts of plexiglass made which are designed to reliably and consistently orient cards inside the scanner as well as gently apply pressure to ensure that they lay flat on the scan bed: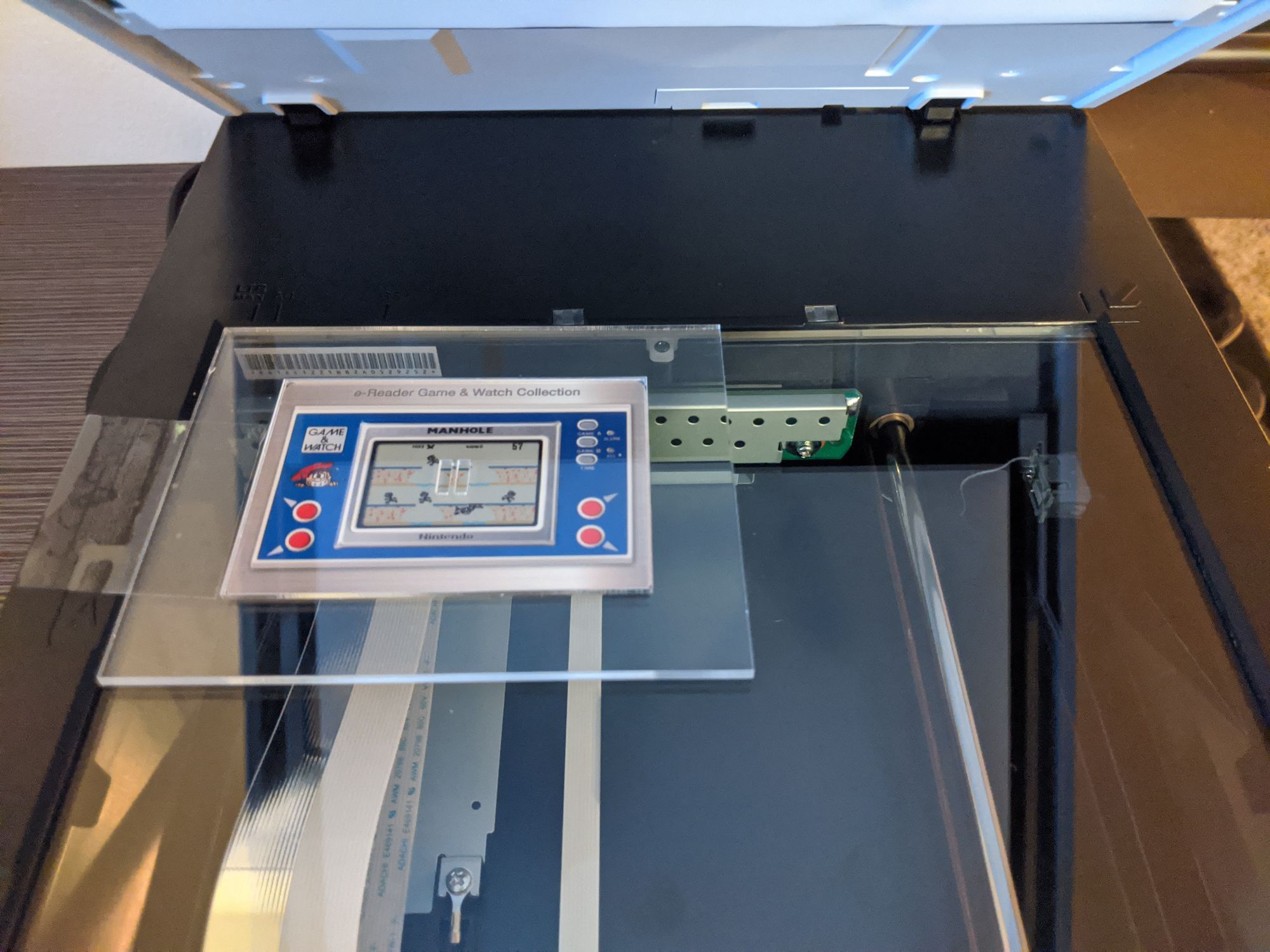 This should allow for the best possible scans from our equipment.
We already have several full sets of cards from various different franchises scanned and preserved in this quality, including the aforementioned incredibly rare Store-Only Demo and Club Nintendo cards. We also have scans of booster boxes and packs in the same quality. Here is an example of one of our card scans resized to a much smaller resolution (The magnified areas show the kind of detail we are able to capture):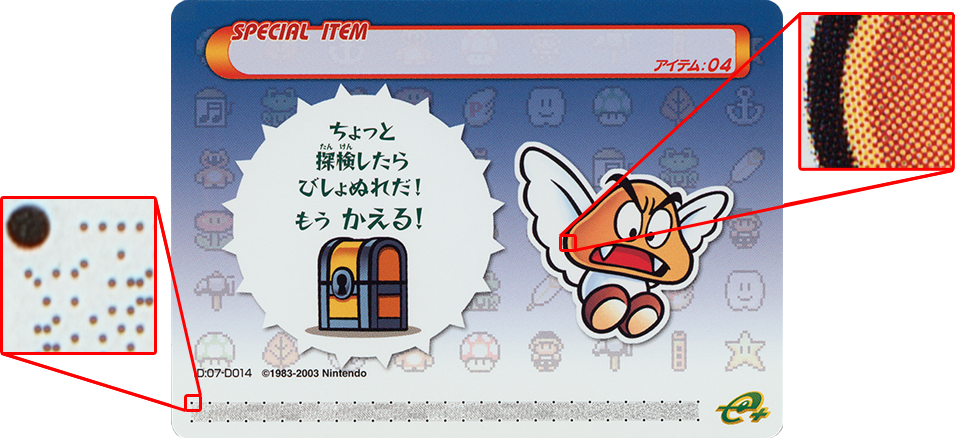 There are a couple of cards which will prove to be difficult or near impossible to obtain, such as the 1st Prize Kirby Card from E3 2002, of which only 10 were printed.
For any cards that are entirely out of our grasp (and for those cards only), we will explore potential recreation of the experience; something we've almost fully achieved with the 1st Prize Kirby Card already.
(A big thank you to The-Revvy for their work on this!).
For historical purposes, we intend to make an image recreation of this card in the same quality, given its similarities to both the 2nd Place and 'Loser' cards within the same set. We'd like to think of this as a temporary measure while we wait and hope for these cards to eventually see the light of day. Any recreated cards will be noted accordingly. However, it's important to stress that this will only account for a few cards at most.
We also intend to preserve e-Reader cards by submitting card hashes to the DAT-o-MATIC database for comparison.
One recurring issue that we've had when attempting to reach out and preserve e-card hashes within the Pokémon Trading Card Game community is that a majority of the most valuable cards are held within grading cases.
Almost every collector we've been in contact with has been very co-operative and willing to help; however, understandably nobody is willing to remove their rare and expensive cards from grading cases and/or risk damaging them. Performing our own physical e-Reader disassembly tests, we concluded that it is possible to scan e-cards from within cases and toploader sleeves with a physical modification of the e-Reader.
We've been in contact with a very talented 3D modeler called RevZ, explained our dilemma to him, and presented the idea of creating a modified e-Reader shell capable of scanning cards from within these cases. Within two weeks, we shipped him an e-Reader and cards for testing purposes, and he produced his first 3D mockup.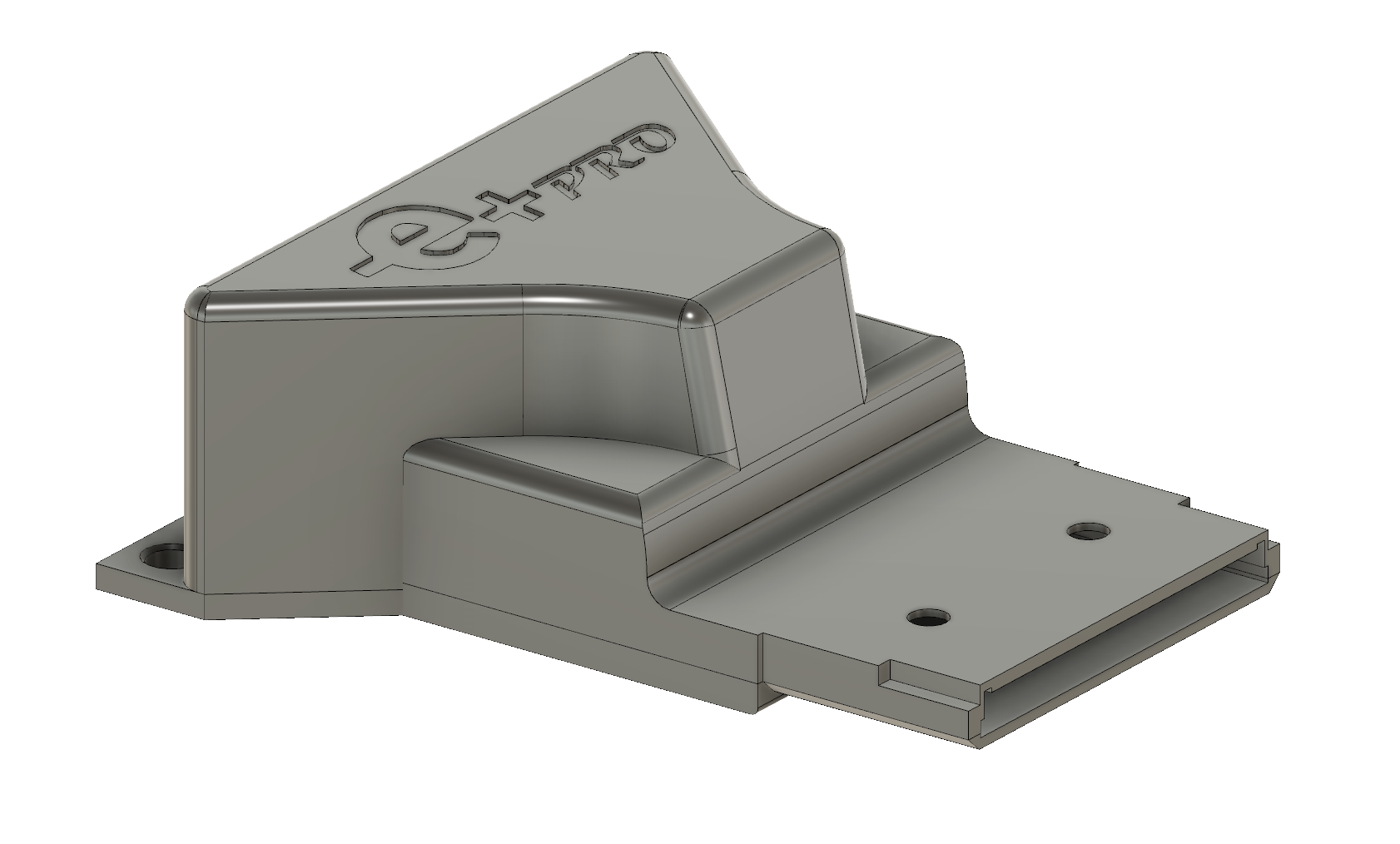 In just a month, we had our first fully functional prototype which he has kindly demonstrated in the following video. We've dubbed this modification the "e+ PRO":
Additional shims or trays for toploader'd and loose cards are also in the process of being created.
Despite still being in the prototyping stage, this modification has several exciting advantages relating to preservation as well as allowing collectors to actually use their e-Reader cards while maintaining the benefit of protecting their cards with toploaders or cases.
The ideal continuation of the project would be to take these concepts a step further and explore the possibility of utilizing computer vision software to generate uniform dot code images from users own high quality scans which would allow for quick hash verification for any card that can be scanned.
At the moment, this is merely a prospect and is not something we can promise to commit to at this stage.
While all of this is very promising, the team needs your help!
We're looking to raise a total of $3,000 (USD) in donations to work toward this preservation goal.
The funds will be used for:
Purchase of undumped, unavailable, and unscanned cards.
Providing matching scanners and tools to collectors with large collections or rare cards who are willing to contribute their time and effort to the project.
Production of custom acrylic templates for holding the cards in place while scanning.
Materials and cost of e-Reader modification production.
Shipping costs related to all of the above.
In addition to preserving e-Reader cards as an important part of gaming history, the project will provide further benefits:
The data and information stored on the e-Reader cards will be preserved for future generations, without the need of trying to hunt these down decades from now.
Guides on how to preserve and restore e-Reader cards.
The resulting 3D models of the final physical e-Reader modification will be made publicly available to 3D print.
Hit Save! is a 501(c)(3) nonprofit organization and your donations are tax-deductible to the extent allowed by law.
All donations up to the amount above will go to this project. Any donations above said amount will be used for similar preservation and history projects in the future.