The e-Reader Crew is back for yet another progress update, this time with a very Pokémon-centric focus!
Our last blog post featured our progress in preserving several incredibly rare e-Reader cards - a trend we have continued in this one.
But before we get into that in our next blog post coming soon, we're very excited to share our recent collaboration with you!
Player 1 Services
Towards the end of 2021, the e-Reader Project reached out to Ben & Rose from Player 1 Services.
Player 1 Services is a store located in Kensington, Maryland, dedicated to the sale, grading and competitive play of Pokémon Trading Cards.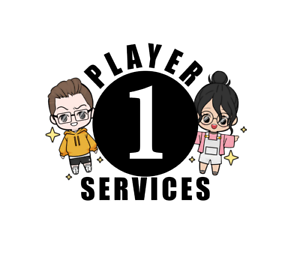 Their Mission Statement reads as follows:
"Player 1 Services strives to make collecting and the preservation of collectables, an affordable, simplified, and expedient process, and to ensure a positive experience for all visitors, users, and collectors."
The store is co-founded by Ben & Rose, a couple who are extremely passionate about the collecting and preservation of the Pokémon Trading Card Game.
They not only help collectors find pieces to add to their collections, but also boast a rather extensive collection themselves, containing several 'Grandmaster sets' - a term coined to describe a set with four copies of every 1st Edition card, and are actively aiming to set a Guinness World Record.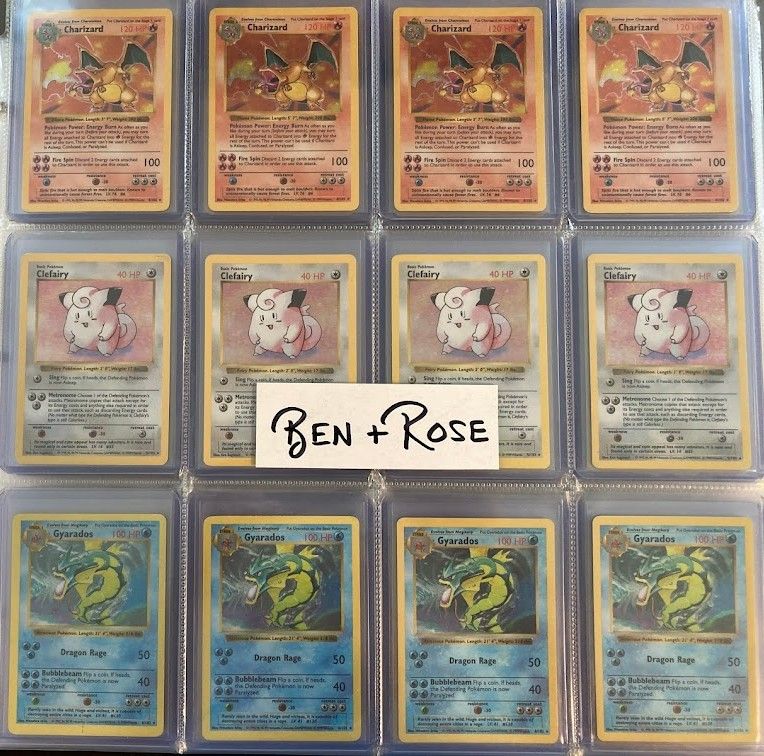 We asked Ben & Rose about the status of the card sets in their collection from the e-series era, and sure enough  – they were almost complete!
Now, as previously established we expanded the scope of our preservation efforts to include not just Pokémon cards with dot code information on them, but also those found within e-series sets, those which have an 'e' symbol on the packaging or promotional information, including any 'jumbo' cards, as well as variations or reprints.
We did this to ensure that we could eventually finish this project knowing full well that we have covered every bit of ground that we possibly could.
This added an incredibly large amount of cards to our list of cards to scan, as it meant we now had to account for holofoil and reverse holofoil cards.
For those unfamiliar, a 'holofoil' card is a card which is printed with a holofoil print in a the picture area of the card, to give it a shiny effect: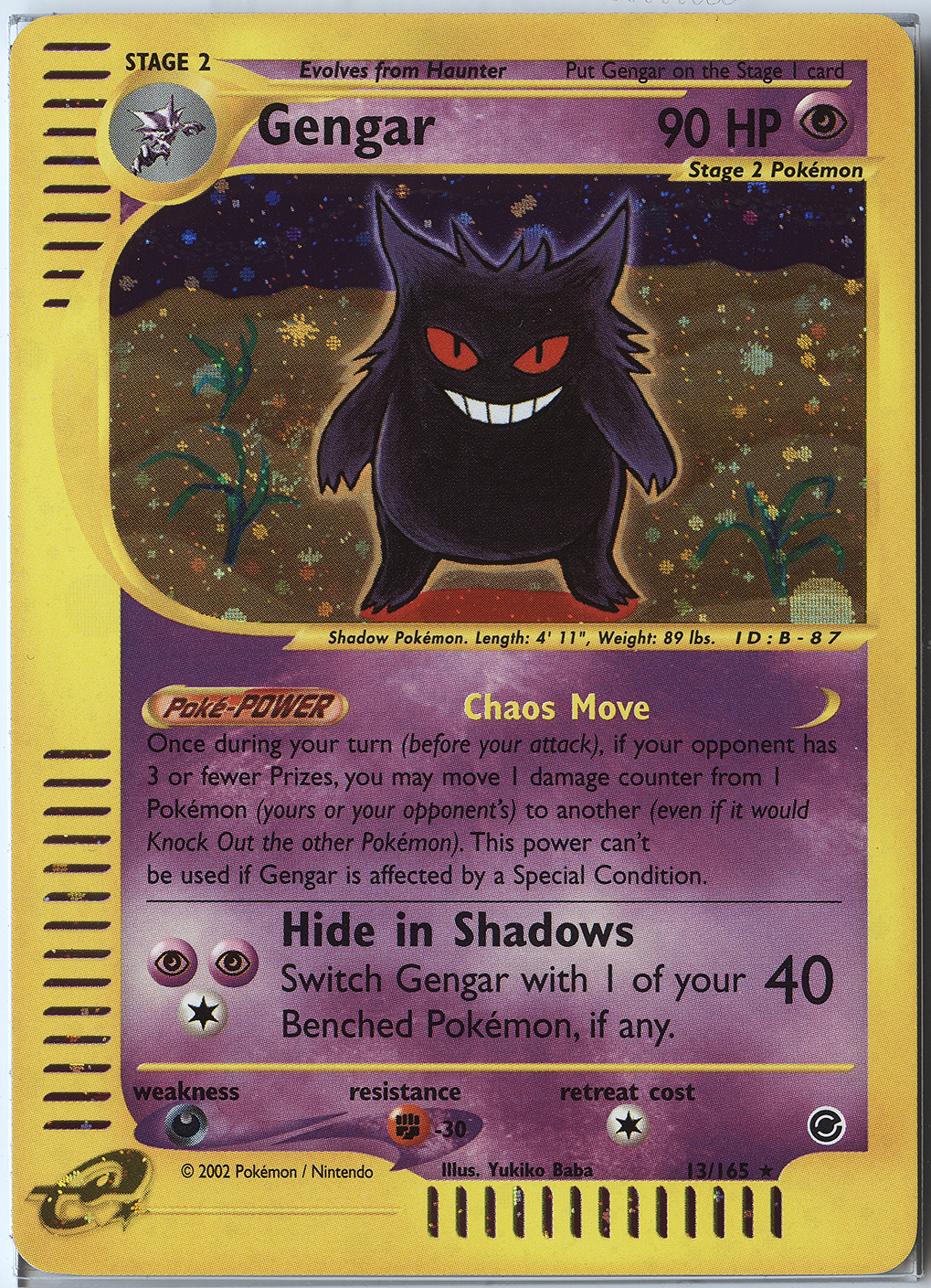 A 'reverse holofoil' card is one in which the holofoil is printed on the outside of the image: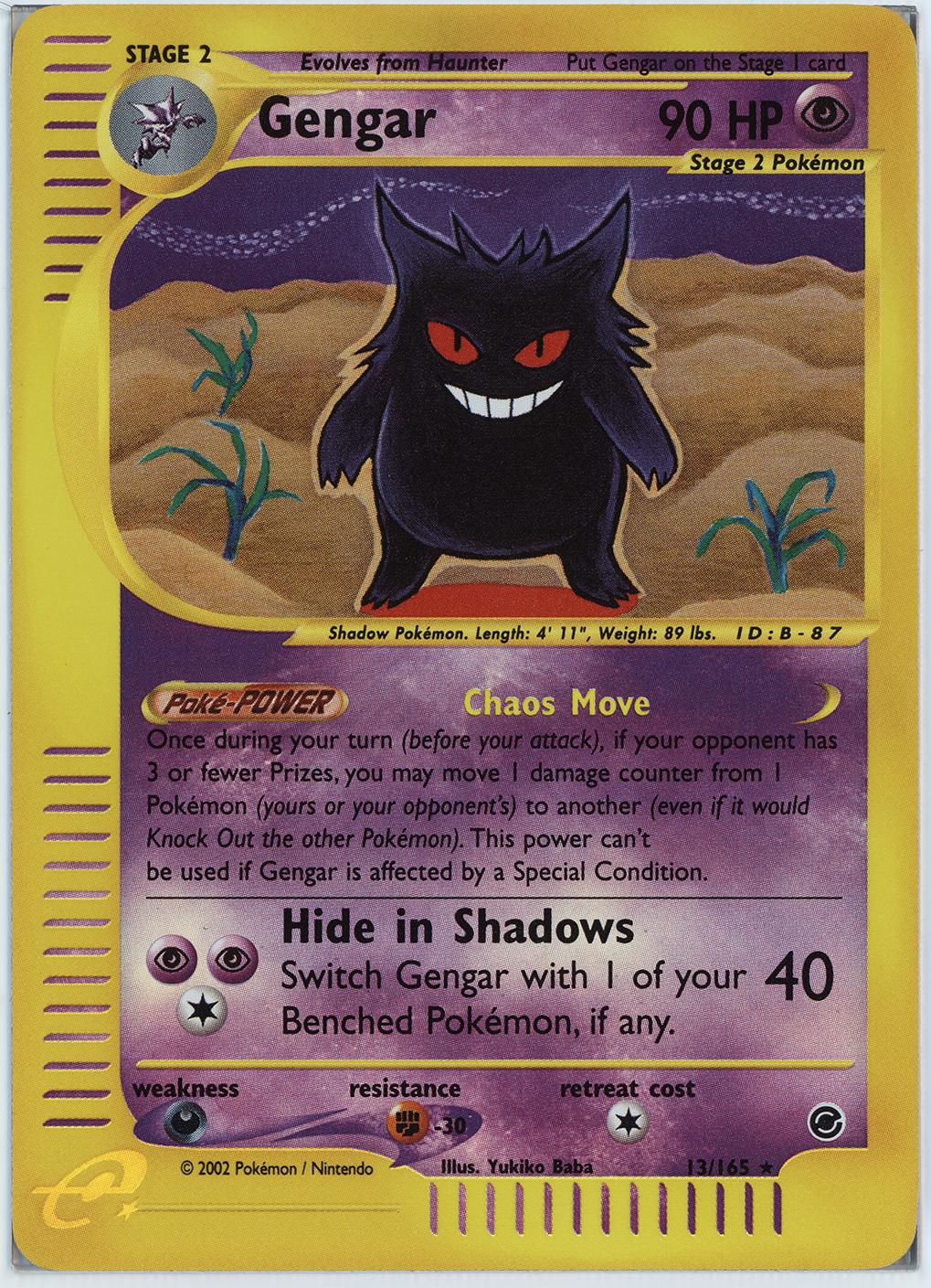 This can get a little confusing, as in some instances both normal cards and holofoil cards get 'reverse holofoil' variants, effectively doubling the amount of cards required to collect (or in our case, scan) - although this is not the case for Japanese cards in e-series sets.
These holographic or 'shiny' cards tend to be rarer and more valuable than their normal non-holographic counterparts, with several in e-series sets reaching hundreds or thousands of US dollars on auction sites, making tracking them down quite a challenge.
With this information in mind, we hesitantly asked Ben & Rose whether they'd allow us to scan the cards in their collection - and they very kindly agreed!
So, after much back and forth, and an intense amount of planning, we had set the dates of July 16th & 17th, 2022.
Seven e-Reader Crew members gathered into two groups, adorned in e-Reader Crew shirts, and made the drive to Maryland with five scanners & many laptops in hand.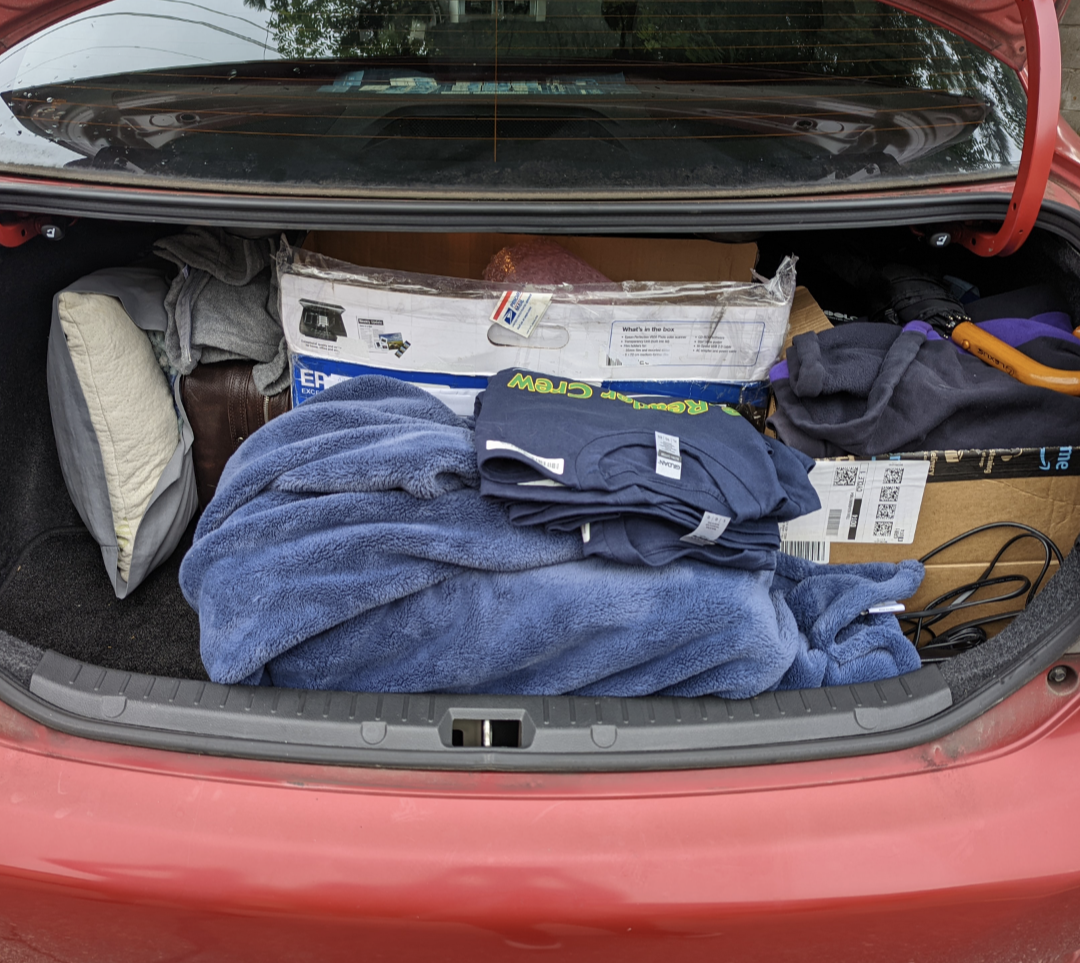 We arrived in the evening of Saturday the 16th, with the first group arriving just a little earlier than the second, giving them enough time to set up and start scanning.
Ben & Rose, who were hard at work running a Pokémon Trading Card Game Tournament, greeted us as we entered.
They were kind enough to have cleared a large seated area of the store ready for our arrival, so that we were able to set up and prepare our equipment.
Initially this proved to be somewhat challenging, as being a Pokémon fan (of which there are several within the e-Reader Crew) and entering Player 1 Services - which is decorated and stocked with various Pokémon paraphernalia from various different eras, is a bit like being a kid in a candy store; it was very easy to get distracted: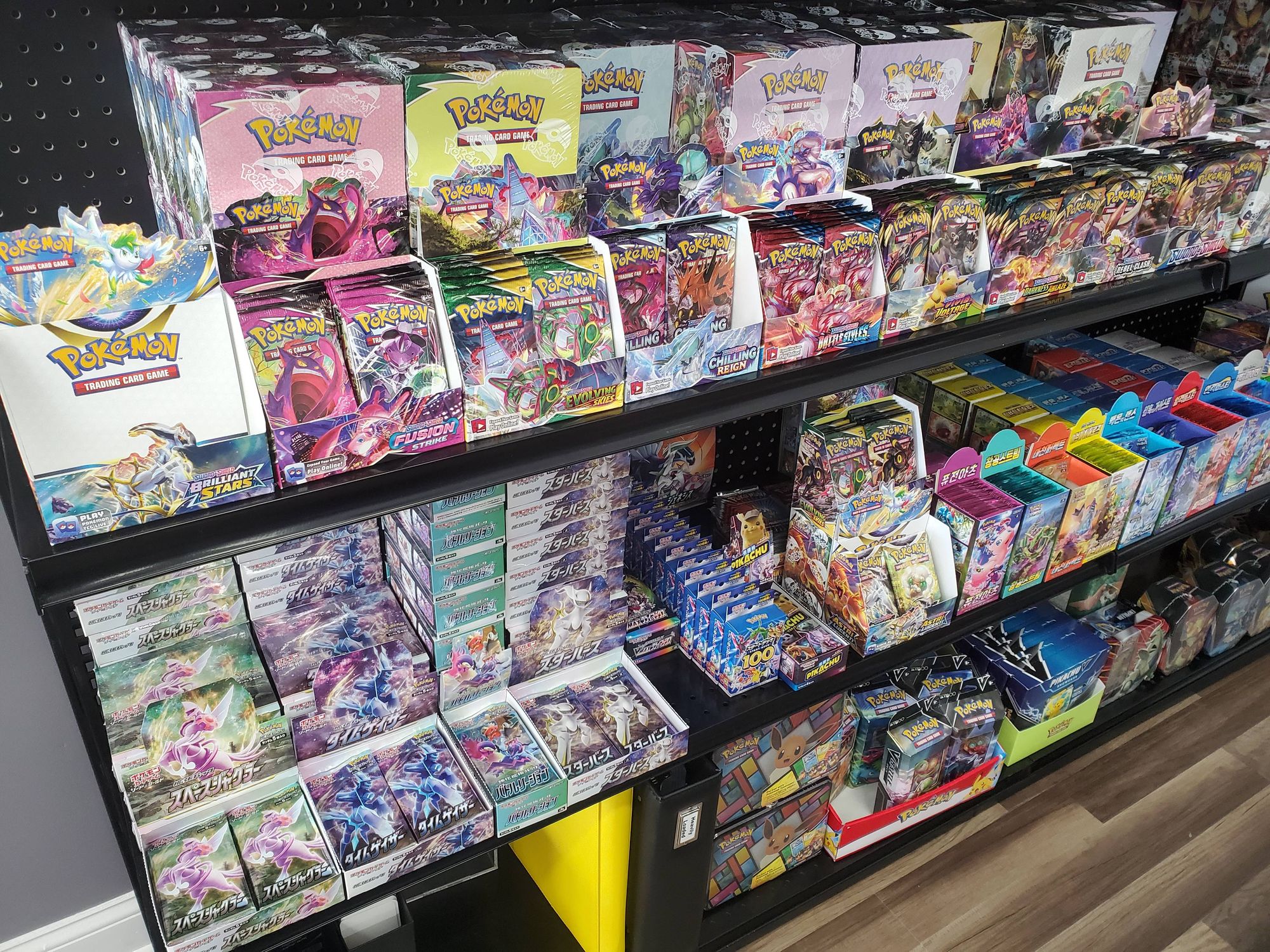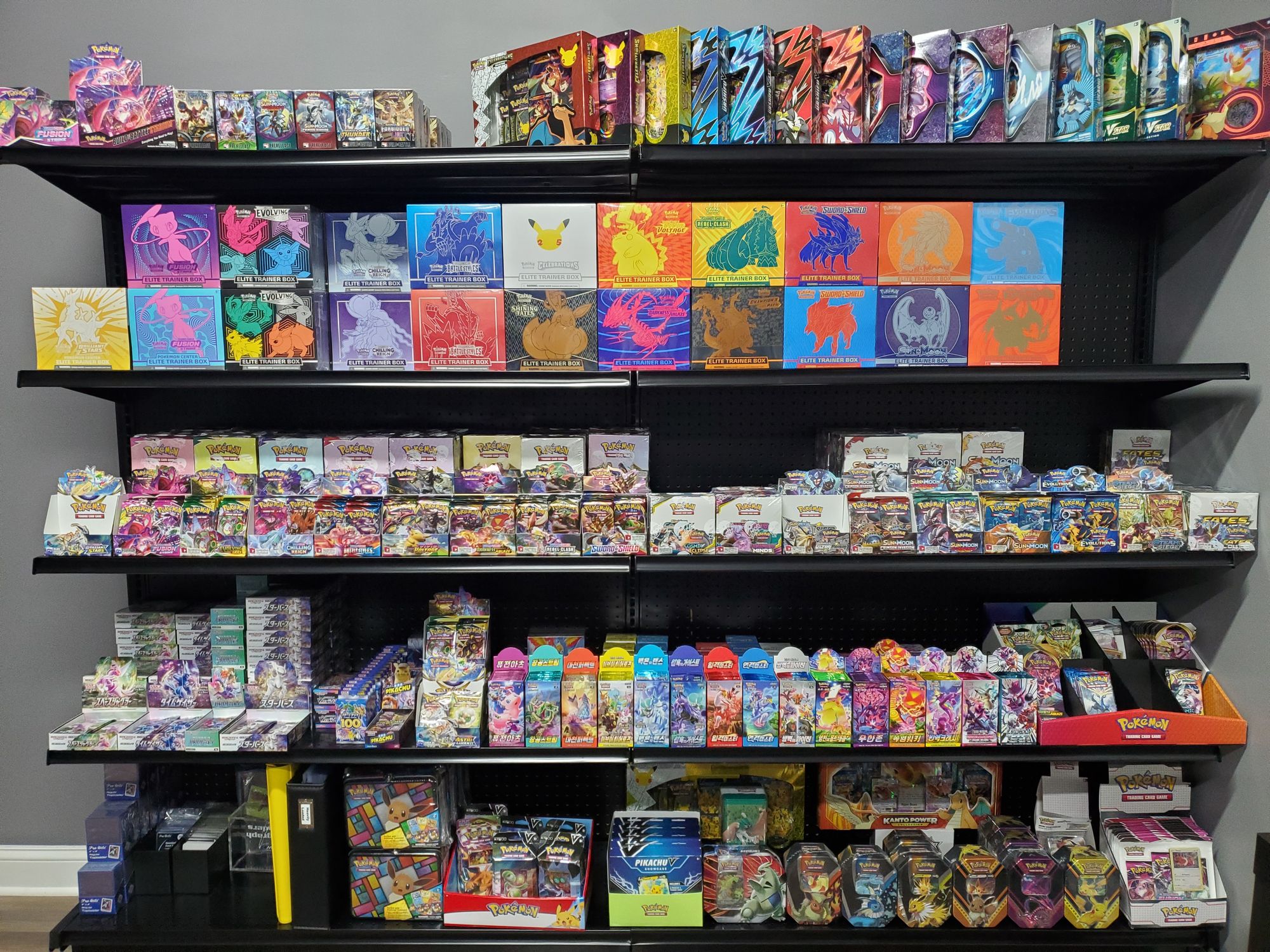 However, once we reminded ourselves that we were due to spend the entirety of the following day there, we got to work preparing the rest of our work area.
Being very tired from travel, we all eventually called it a night and agreed to meet Ben & Rose back at the store in the early morning at 7AM the following day.
After a less-than-ideal night's sleep, we made our way back to the store.
As we sat at our workstations, Ben & Rose pulled out several thick binders filled to the brim with Pokémon cards, each organized carefully into sets, and began to run through our list, pulling out stacks of cards for us to scan.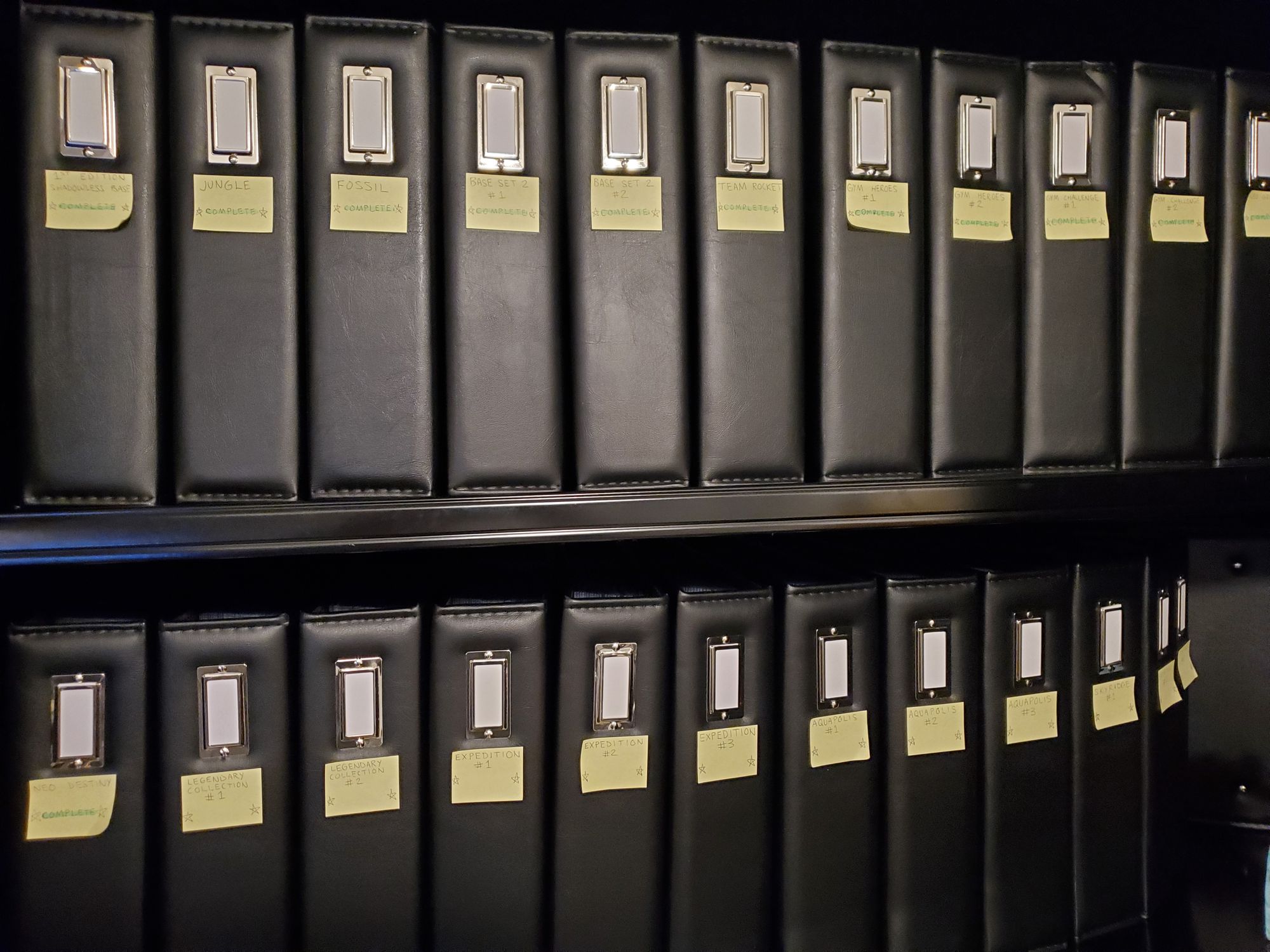 Some of these cards were especially notable, such as the Crystal Pokémon cards - a group of valuable colorless type cards that are considered secrets in their respective sets: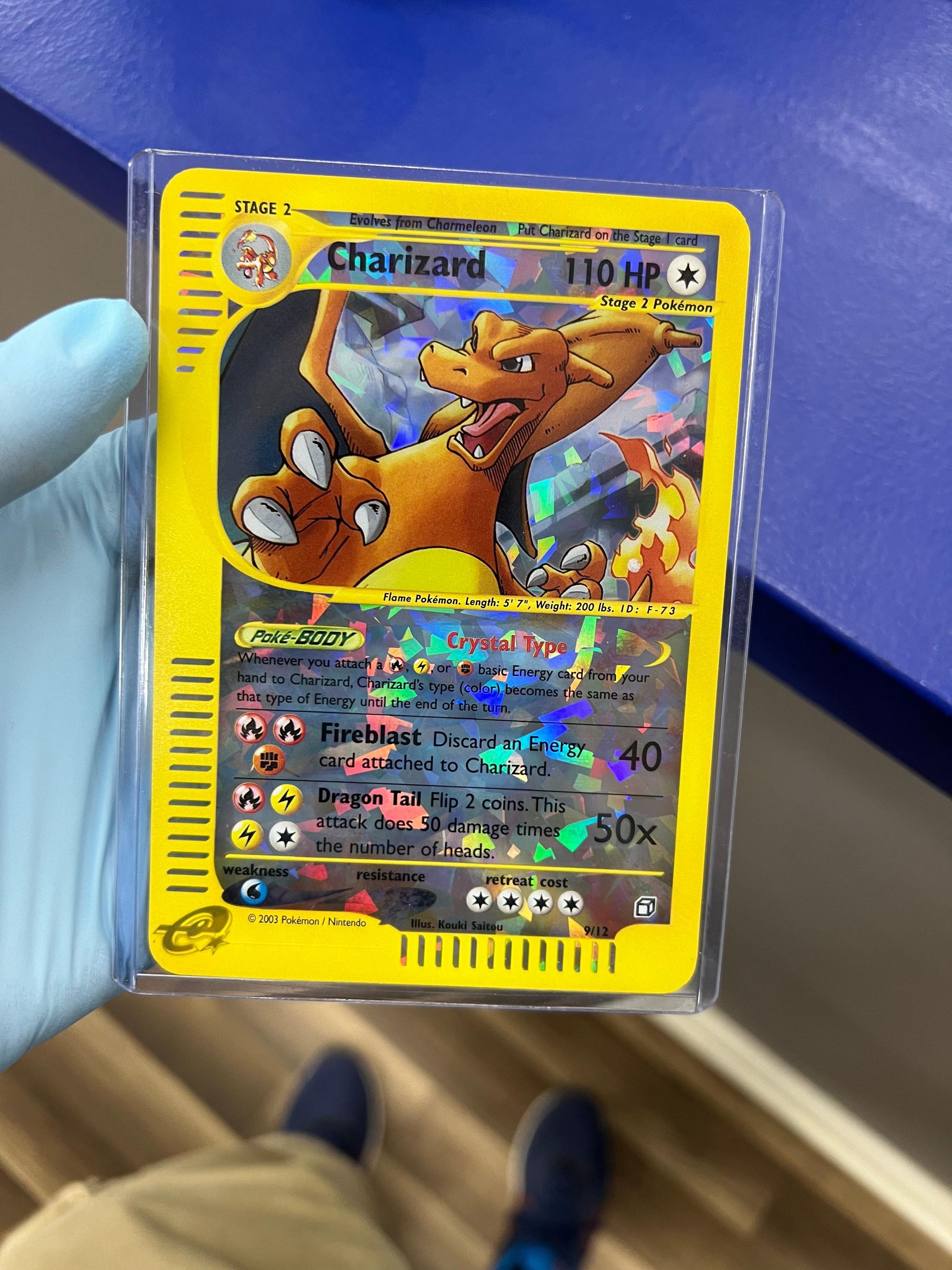 Knowing we only had a single day between us to go through the available cards on our list, we put on our protective gloves, prepared glass cleaner and air pipettes, and immediately got to work scanning.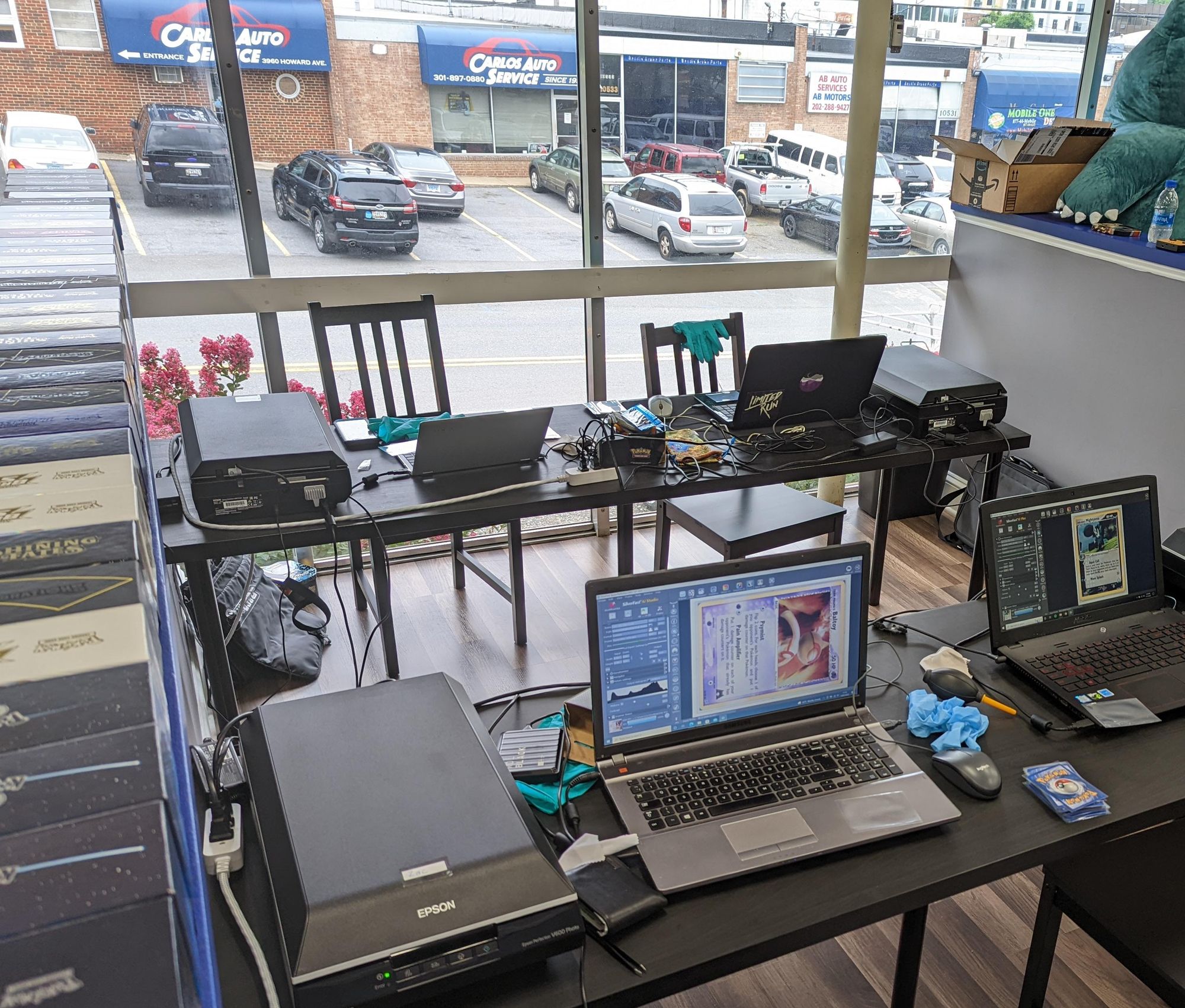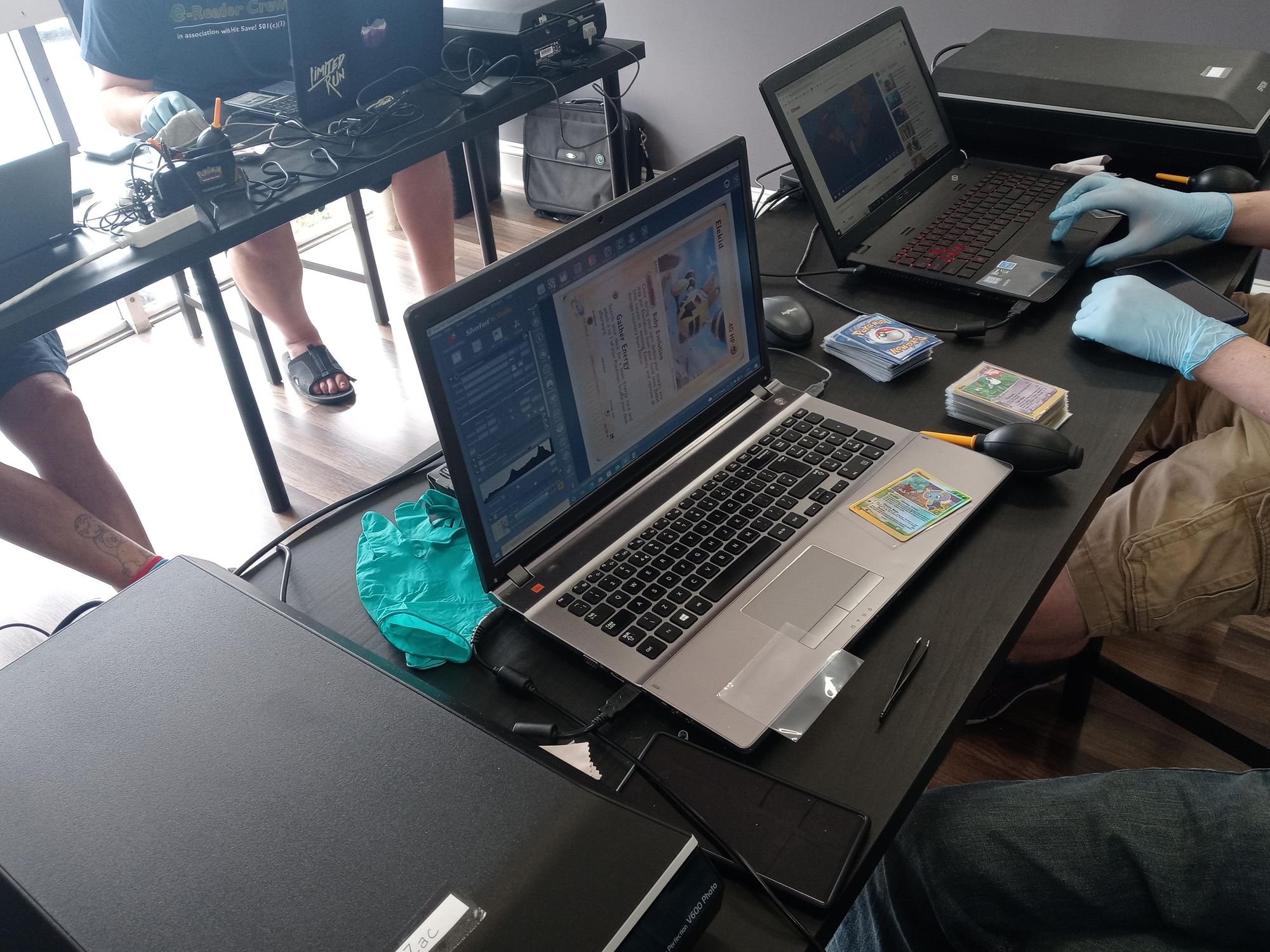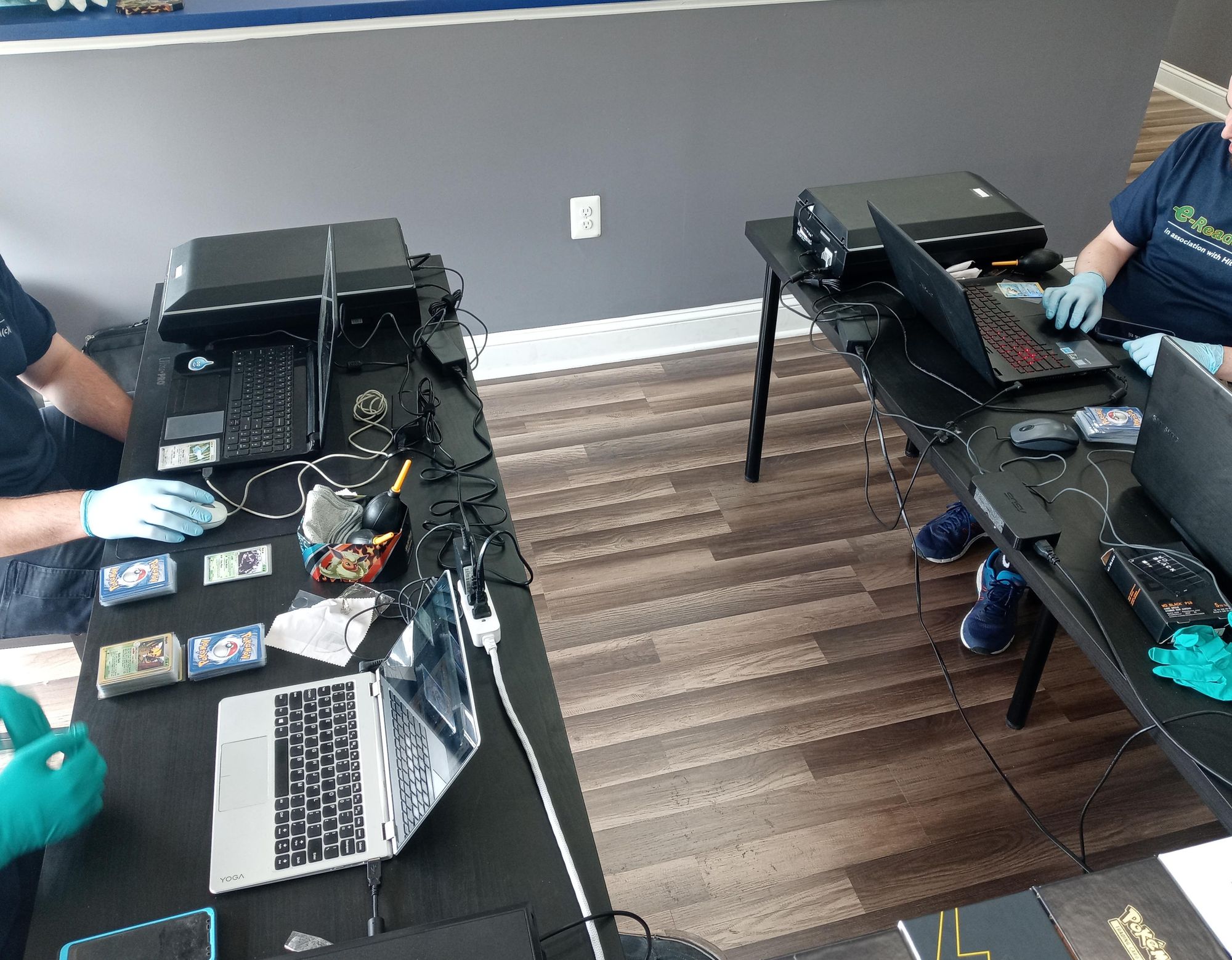 As daylight turned to darkness we were making solid headway on cutting down the list.
2AM of the 18th rolled around - we had initially planned to stop here, but we were in good company and cards still needed scanning, so we pressed on.
We pushed forward until 5 in the morning – At this point we had been scanning for a total of 22 hours, until...
We had done it! We had ticked off every available card in our list that was in Ben & Rose's collection!
This put us at a whopping total of around 750 card scans, and several scans of booster packs and boxes too!
In an effort to keep ourselves going throughout the course of the day, discussions were had on various (usually Pokémon-related) topics, and many laughs were shared by everyone.
What started out as a trip for the sake of preservation turned into something more – We hadn't only made incredible progress on our preservation efforts, we had made some genuine friends along the way.
We'd like to personally thank Ben & Rose for not only their generosity in allowing us to visit and take up large portions of their time to scan parts of their card collection, but also for being such wonderful people who are great fun to be around; what could have simply been a day of scanning cards was an incredibly memorable experience.
We hope to eventually do a follow-up trip, to scan the remaining cards in the Pokémon TCG e-series set as they obtain them.
If you're ever in the Kensington, MD area, we'd highly recommend paying them a visit!
They can also be found online at their website, Facebook, and eBay.