Pokémon TCG - Battle Road 2002
As should be evident by now, preservation rests for no one. We've been hard at work scanning and preserving incredibly rare e-Reader cards, so you might wonder "is there anything left to preserve"? Grab a snack, this is a long post, we think you'll like it :)
While we were at Player 1 Services, we received a message from Qwachansey, who stated that through a friend of his, we might have the opportunity to scan an incredibly rare e-Reader card missing from No-Intro's Undumped List - 129-P004, Female No. 1 Trainer from the Battle Road 2002 trophy set.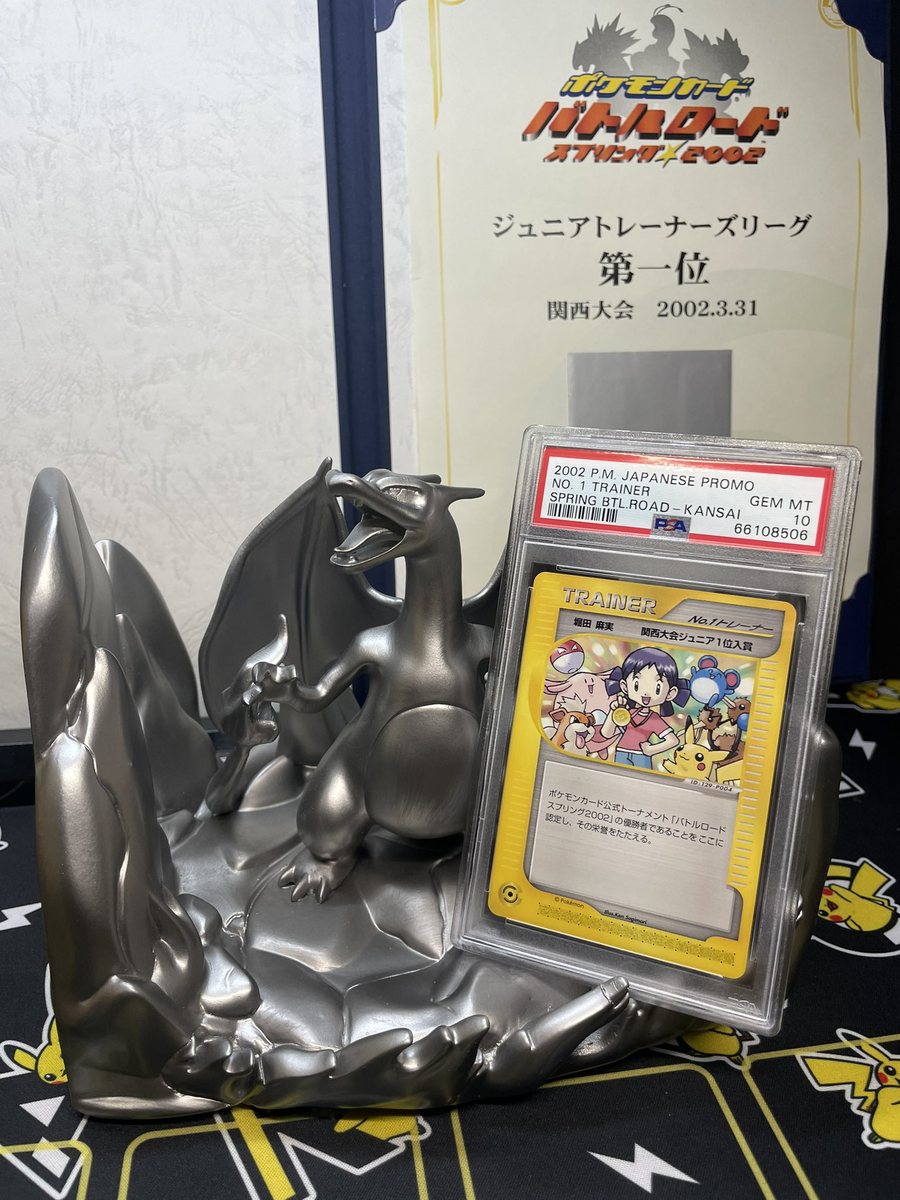 This card was only officially distributed a total of 4 times, with at least one 'unclaimed' (leftover tournament prizes) print making it to auction sites.
On top of that, three of the female cards were the Summer variant, with the one we'd potentially be able to scan being the only Spring variant, making this truly a one of a kind card.
We were told that we'd hear more in the coming weeks, which certainly added to the level of excitement.
August 2nd rolled around, and we received the following message:

Tomorrow? But that's the day after today!
It was evening in most of the United States, and this was made even more complicated still, as his friend - Onlycollectables was located in the United Kingdom.
However, the e-Reader Crew is a set of individuals dedicated to the cause of video game preservation, and so tomorrow it had to be.
We urgently contacted a member of the crew from the UK - where it was currently nearly midnight.
Now to be clear, the reason for the urgency was not that the card was going to be wholly unavailable for scanning in the future, but that it was promptly going to be sent out to PSA for grading - to ensure we could obtain the highest quality scan possible, we needed to scan the card before this, as the distance from the flat bed is increased with a grading case applied; leading to a lower level of clarity in the image.
Our UK crew member had work the following day - which could have been an obligation that put a dampener on the whole situation, if not for the fact that he was able to find somebody to cover for him; some things are just more important!
And so, yet another road trip was on! Our crew member made the drive down to meet with Onlycollectables, with the knowledge that the card had a small window of only a few hours to be scanned before it was sent off for grading, our crew member scrambled to prepare his scanning equipment before heading to bed for some much needed rest to make the trip the next morning.
It was a warm summer's day and the drive went smoothly, reaching his destination in just 3 hours!
When scanning cards belonging to somebody else, it's always important to respect the wishes and comfort of their owner when handling them.
This card was especially nerve-wracking to handle, as it is currently the most expensive e-Reader card purchased in the collectibles market as of the release of this blog post, at a cost of ¥11 million (roughly $80,000!).
A test card was brought to show the scanning process to Onlycollectables, who graciously allowed us to scan the card from within a thin plastic sleeve using our usual scanning template.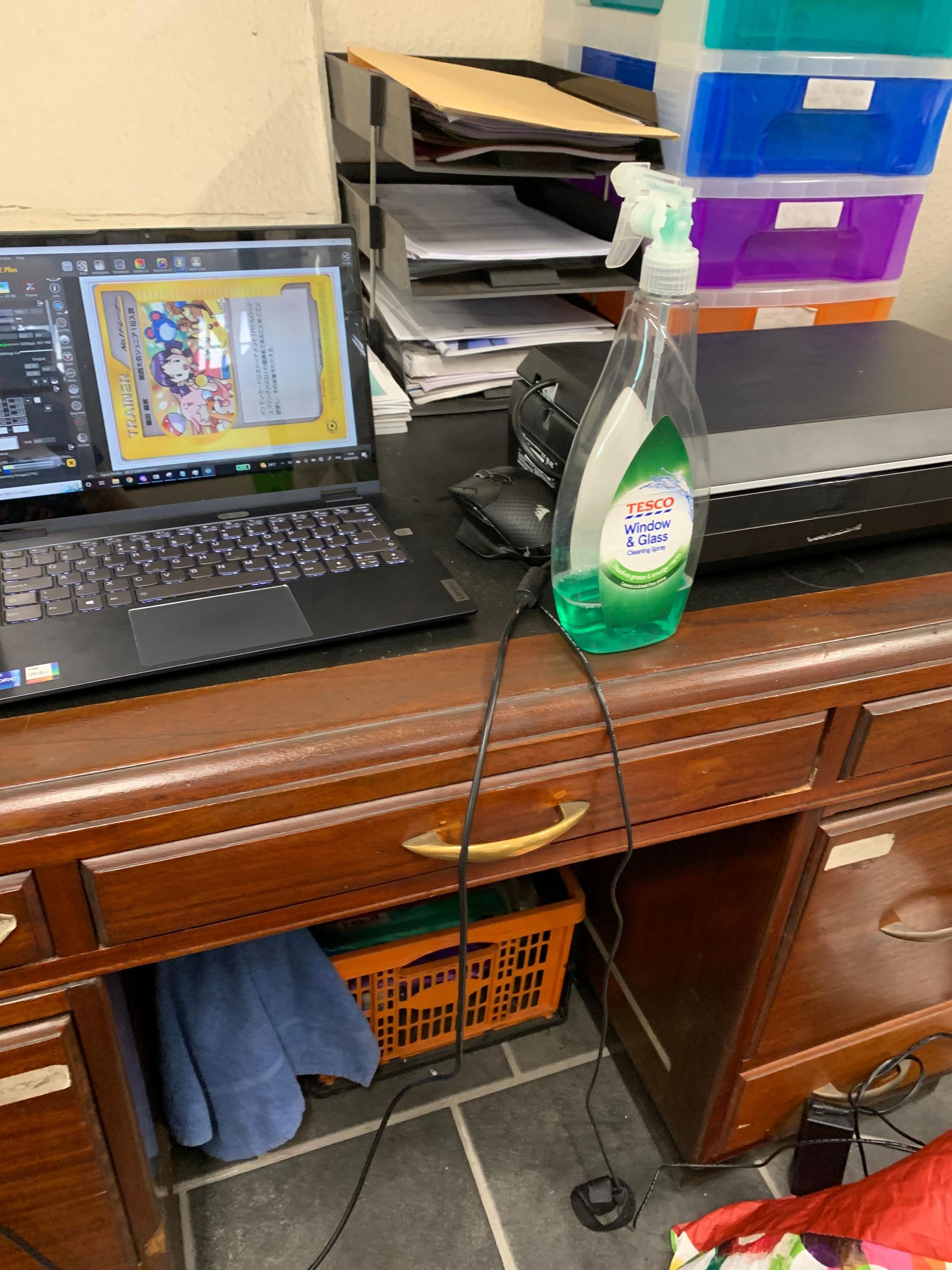 While the scanning was taking place, Onlycollectables revealed the lengths he had gone to to obtain it.
He had been trying for the better part of 10 years to convince its original owner to part ways with it.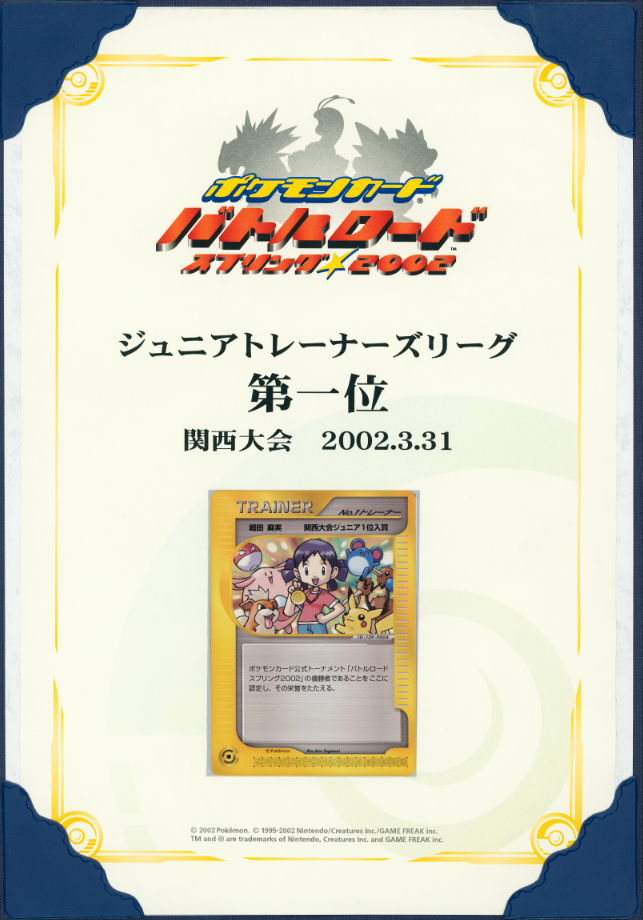 He also allowed us to scan the folder the card came in (featured above), and allowed our crew member to view the other parts of his collection, all of comparable interest and rarity, giving an explanation for each.
We'd like to take this opportunity to give a MASSIVE THANK YOU to Onlycollectables for allowing us to scan this incredibly rare and valuable piece of e-Reader and Pokémon history! And to extend this thank you to Qwachansey for putting us in touch, and remaining a key player on the preservation of Pokémon TCG e-Reader cards as a whole!
To see more of Onlycollectable's content and collection, you can find him on YouTube, Twitter and Instagram.
And then...
Now, we already felt lucky enough that the opportunity to scan and preserve this card arose, but it would seem our luck hadn't quite yet run out…
About two weeks before the publication of this blog post, we received yet another message in our inbox - it was from our friend, Qwachansey.
He had been contacted by a collector called Nido.
Nido lives in Japan, and has a rather extensive Pokémon TCG collection.
Within that collection were all 3 Battle Road 2002 Female Trophy Cards:
129-P004, Female No. 1
129-P005, Female No. 2
129-P006, Female No. 3
Not only are these some of the rarest cards in the entire e-Reader library (with the 2nd place card being officially distributed only a total of 3 times), but Female No. 2 and No. 3 are the last cards containing a dot code on them that we needed to preserve.
The versions of these cards being presented were further special still, as unlike the previous trophy cards we had scanned, these ones did not have the name of a winner printed on the front of them - this would seem to be because the cards that Nido had were leftover prints that didn't make it into the hands of any tournament winners.
Nido was aware of our preservation efforts through posts on Qwachansey's Instagram, and had reached out to him asking for more information as to how he could preserve his cards.
However, as is tradition at this point - there was a slight snag; the cards had been sold, and were due to be shipped out to their new owner in the next few days.
We don't know the details of this sale, however there was a listing in 2020 on a Japanese auction site containing these three cards (also missing winner names) with a 'Buy it Now' price of ¥21,000,000 (around $205,000).
Once again, we found ourselves scrambling to put together a solution in a short period of time - this time in a country where nobody within the project resides, and we needed to get a scanner to Nido fast.
We reached out to some of our contacts, hoping that somebody might be able to help us.
Somebody did – Legendary Luna of Legendary Japanese Imports.
Luna was able to pull a few favors with her Japanese agent, and in the name of preservation, we arranged to have a scanner bought and shipped to Nido on next day delivery.
Behind the scenes, we adjusted our usual guide hand out and software auto-installer to accommodate Nido's upcoming delivery.
We ran into a few complications, on account of the Japanese Epson V600 scanner (called the X820 in Japan) not being supported by SilverFast's free software program, but we promptly provided him with an appropriate license and continued with the plan.
Once Nido had all the tools he needed, the scanning process went smoothly and with his help we had finally managed to scan all three of the female trophy cards!
This feat would not be possible without all of those who have helped us get this far, so we'd firstly like to give a HUGE THANK YOU to Nido for his willingness to preserve these cards, as well as for being an absolute pleasure to work with!
We'd once again like to thank Qwachansey for his amazing work in putting us in touch with various collectors (we owe that man a drink!).
And we'd also like to thank Legendary Luna for arranging the delivery of a scanner to Japan so quickly - we couldn't have done it without any of you.
To see more of Nido's collection, you can follow his posts on Instagram!
And if you're interested in importing collectibles from Japan, we'd highly recommend Legendary Japanese Imports; they provide an excellent service!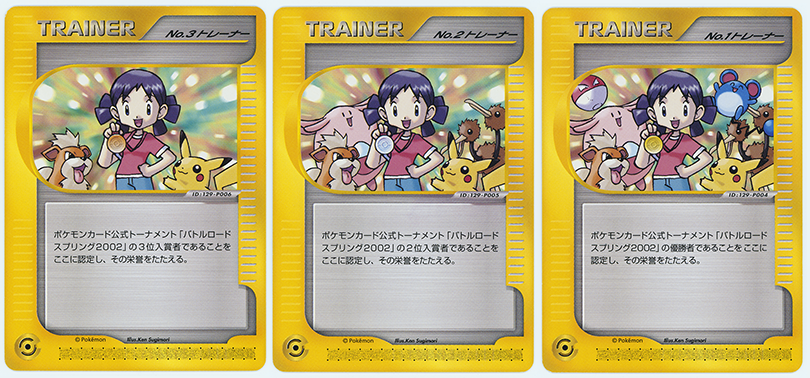 With scans of the female trophy cards now safely stored in our archive, it was time to get to work on obtaining the dot code information from them.
Luckily, this wasn't too much of a task with the help of endrift's e-Reader card conversion tool, (included in the development build of mGBA 0.10).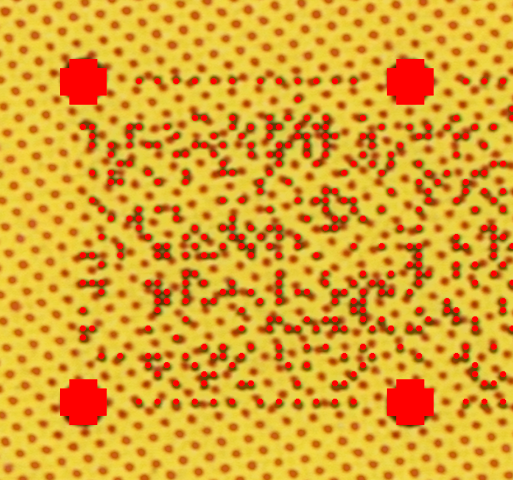 And in just minutes, we had the data for each of them working in an emulator!
We were once again greeted by popular Japanese Pokémon musician/prankster Imakuni, with messages for the winners.
Here's what each of them said:
Female Trophy No. 3:
"Congratulatory Message
Kudos from Imakuni? to you for getting all the way here. Thank ya!!
Congrats on third place! These are women's times!
That's why it's women's liberation! Now's the time to aim for the top! Even if you have to take me prisoner if I get in the way!"
—-------------------------------------------------------------------
おゆわいのことば
イマクニ?から入党者の
アナタにおくるおゆわい
のことばです。ありかた
くね!!
3位おめでとう! これらは女の時
代!ウーマンリブだからな!今度は
トップを目指せ!そしオレをトリ
コにしろ!
Female Trophy No. 2:
"Congratulatory Message
Kudos from Imakuni? to you for getting all the way here. Thank ya!!
Congrats on winning second place! And now for a sentimental haiku from me to you.
Second place winner
Is it time to confess to the person you like?"
—-------------------------------------------------------------------
おゆわいのことば
イマクニ?から入党者の
アナタにおくるおゆわい
のことばです。ありかた
くね!!
準優勝おめでとう!そんなアナタに
オレからおセンチな俳句を一句。

準優勝

アイツにスキって
言っちゃえば?
Female Trophy No. 1:
"Congratulatory Message
Kudos from Imakuni? to you for getting all the way here. Thank ya!!
This is a message from Imakuni! Congratulations! You are the winner! I hope you will continue to lead all the girls in the country with your strength! Don't let the boys beat you!"
—-------------------------------------------------------------------
おゆわいのことば
イマクニ?から入党者の
アナタにおくるおゆわい
のことばです。ありかた
くね!!
おめでとう!優勝でございますな!
これから、全国の女子をその服つぷ
しで引つぱつてつてくれよな!男子
なんかに負けないでくだすつてよ!
(English translations courtesy of Ryuzac).
So this would confirm that the dialogue of the male and female trophy cards does indeed differ after all!
Anniversary Card Reprints
These cards are not the only incredibly rare Pokémon TCG e-Reader cards we've scanned recently though…
You might remember from the end of our 3rd blog post that the Crystal Energy card (ID D-53-b), from the Wind from the Sea set in Japan, received a reprint in a 25th Anniversary Deck given exclusively to illustrators of the Pokémon Trading Card Game.
The deck was intended to showcase the Pokémon TCG over the course of the last 25 years.
You can read more about it in an article by pokeguardian.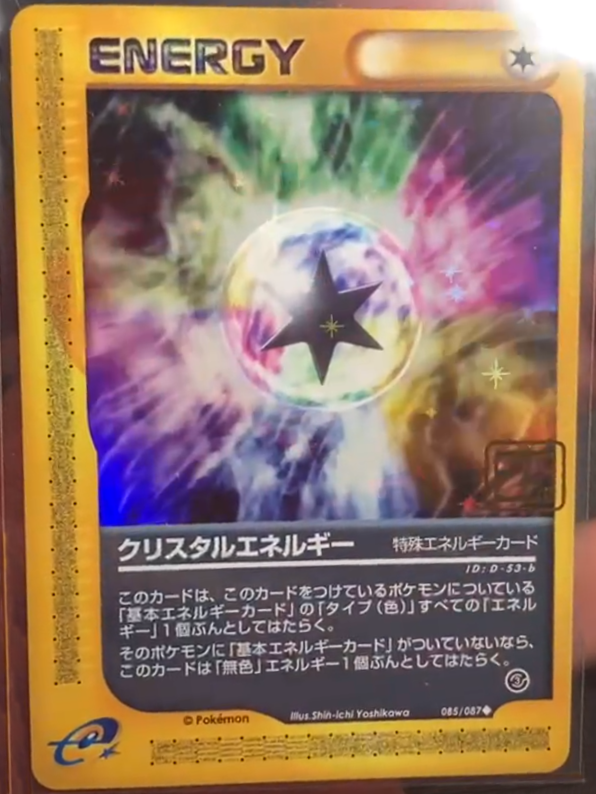 Yes that's right, a new e-Reader card variant was reprinted in 2021 - around 20 years after its initial release.
On some level this was frustrating, as we'd come so far, only to have a very rare e-Reader card show up from under us.
How could we possibly obtain a card that was only given out to illustrators of the Pokémon TCG?
All hope was not lost - as we were contacted by an anonymous collector who kindly allowed us to scan it.
We quickly arranged to have a scanner sent to them, and were able to check it off the list!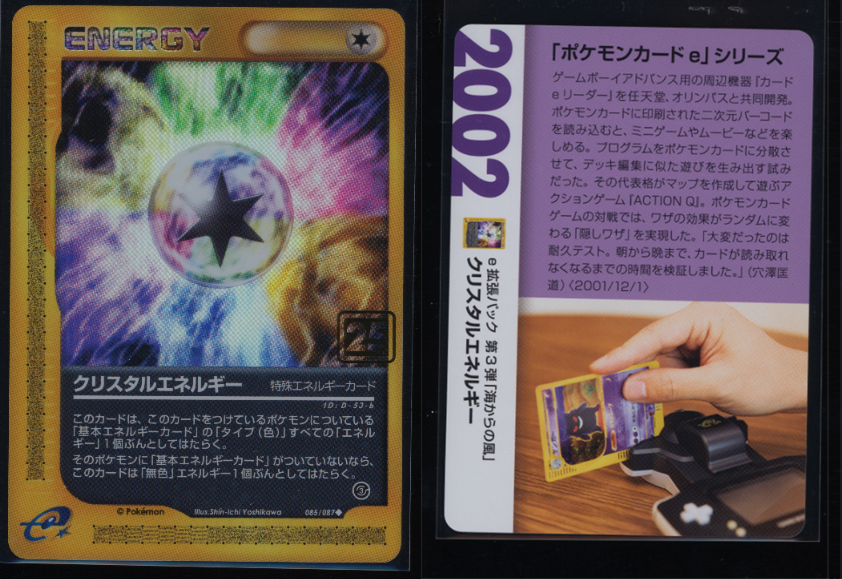 The front of the card is a holofoil print with a large '25' stamp representing the 25th Anniversary.
The back of the card is a tribute/history lesson in e-Reader technology.
It reads as follows:
"Pokémon Card-e" Series
Nintendo's "Card e-reader" accessory for use with the Game Boy Advance, developed in collaboration with Olympus. By reading the 2D barcode printed on the Pokémon card, you can enjoy mini-games, movies, and more. It was an attempt to distribute programs to Pokémon cards and create a type of gameplay similar to deck editing. An example of this is the action game "ACTION Q" where you can create and play maps. In Pokemon Card game battles we were able to make "Hidden Techniques" with effects that could change randomly. "The hardest part was the endurance test. From morning to night, we verified how long it would take for the card to become unreadable." (穴潭匡道) <2001/12/1>
e-Expansion Pack Vol.3 "Wind from the Sea"
Crystal Energy
—-------------------------------------------------------------------
「ポケモンカードe」シリーズ
ゲームボーイアドバンス用の周辺機器「カードeリーダー」を任天堂、オリンバスと共同開発。ポケモンカードに印刷されたニ次元バーコードを読み込むと、ミニゲームやムービーなどを楽しめる。プログラムをポケモンカードに分散させて、デッキ編集に似た遊びを生み出す試みだった。その代表格がマップを作成して遊ぶアクションゲーム「ACTION Q]。ポケモンカードグームの対戦では、ワサの効果がランダムに変わる「隠しワザ」を実現した。「大変だったのは耐久テスト。朝から晩まで、カードが読み取れなくなるまでの時間を検証しました。」(穴潭匡道) <2001/12/1>
e拡張パック 第3弾「海からの風」
クリスタルエネルギー
(English translation courtesy of Ryuzac).
All of this of course begs the question "Is the dot code any different from the original print?"
Well, here's the thing–
To answer this question, we'd like to take a step back and make mention of a reprint of 'Cybeast Gregar' (ID 137-C009) from the Rockman EXE 6 - Promotional set.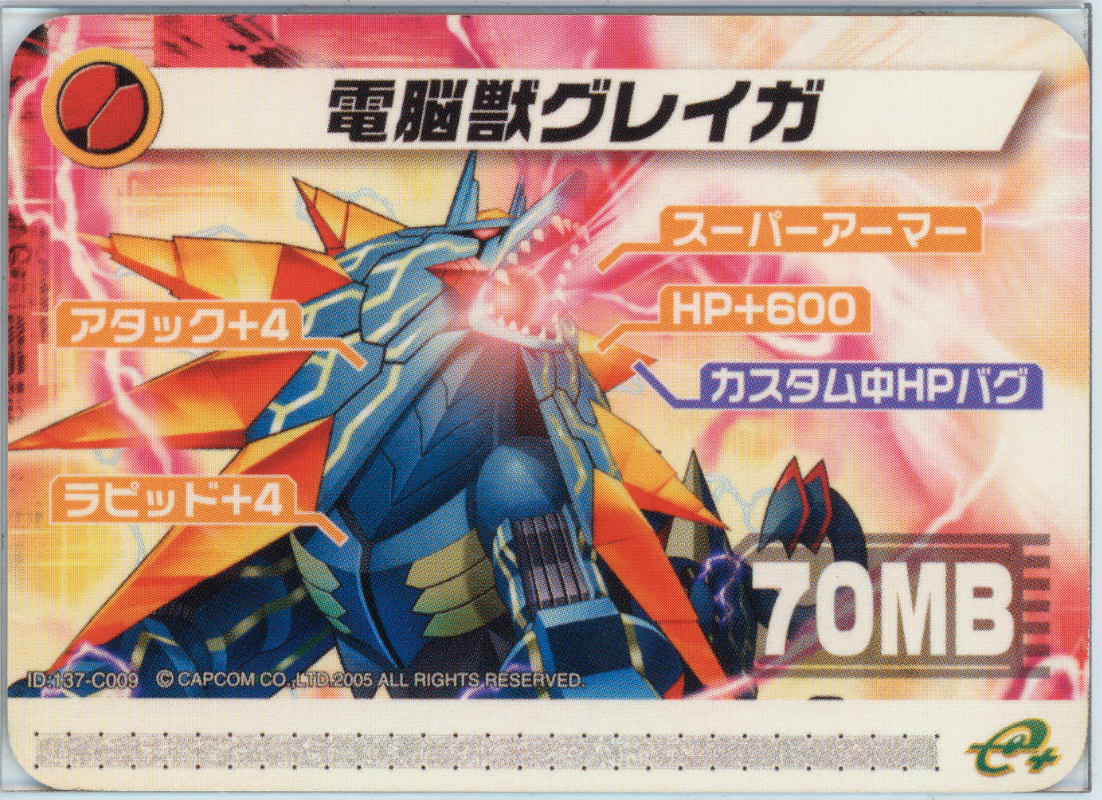 Eagle-eyed readers may notice that the corners of the card are more rounded than a standard e-Reader card.
This card was distributed with the 'Rockman EXE Treasure BOX' - a collection of memorabilia celebrating Rockman/Mega Man's 20th anniversary available to consumers.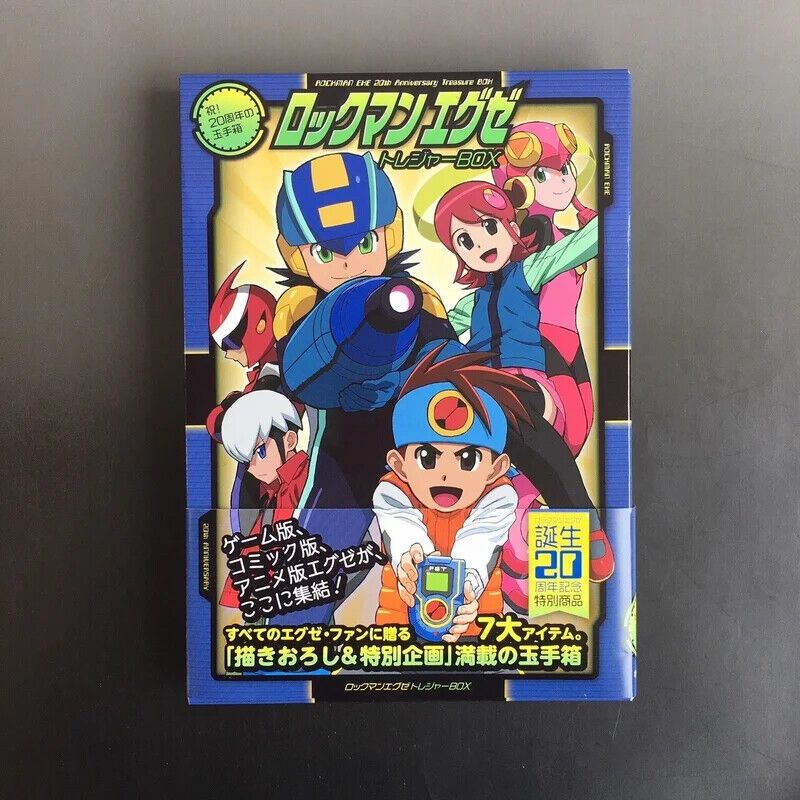 The corners would prove not to be the only difference between a regular e-Reader card, as upon further inspection of the dot code: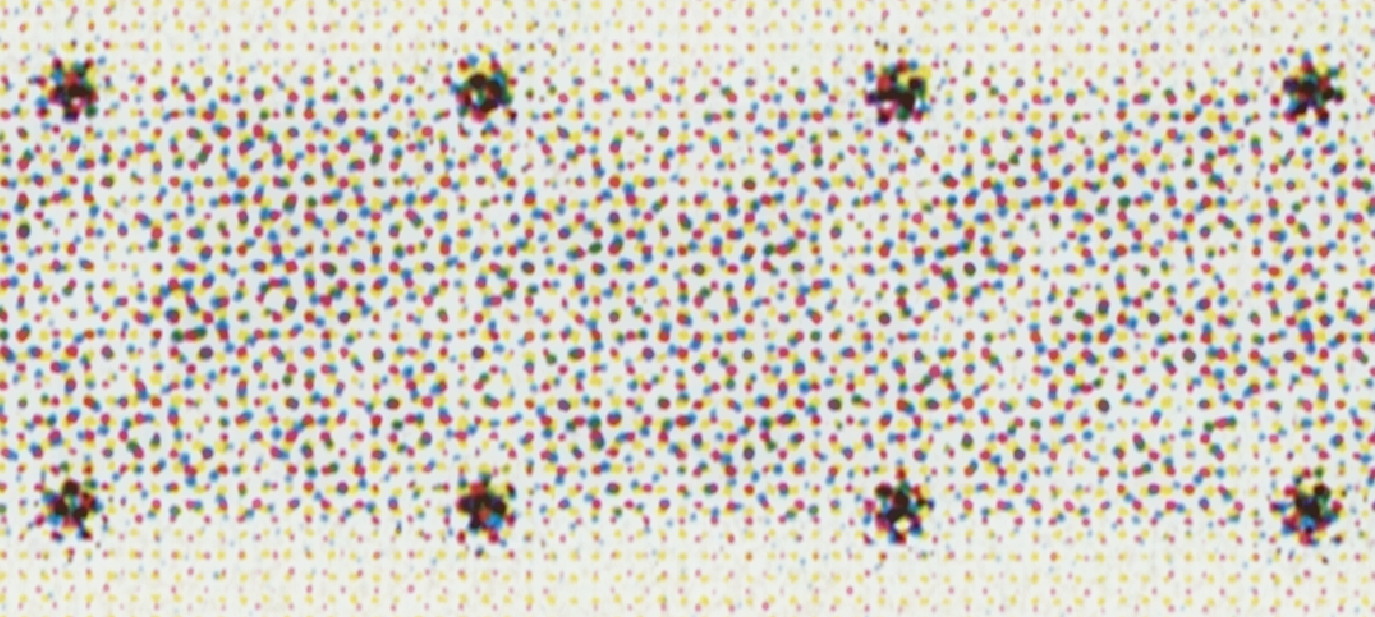 It hadn't been printed at a quality high enough to be readable.
This turned out to also be the case for the 25th Anniversary Crystal Energy Pokémon TCG card: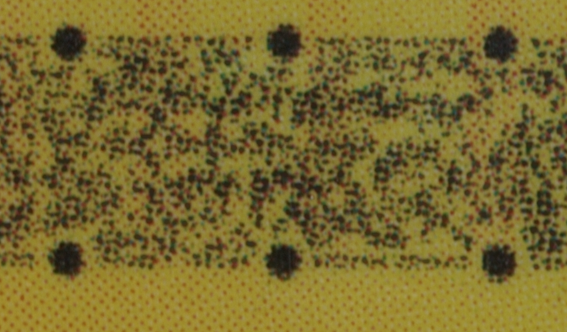 When compared to the original D-53-b, you can see a clear difference in clarity: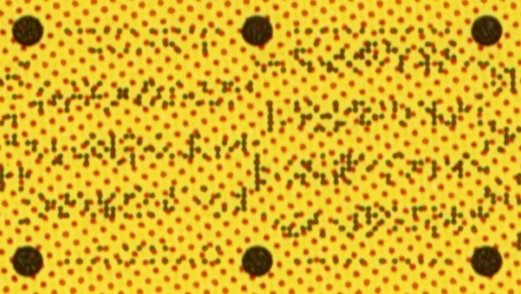 You may have spotted that the scan of the Anniversary reprint is darker than the original - this is due to the reflective nature of holofoil.
However it's also worth noting that this card is the only holofoil print card in the entire e-Reader catalog that embellishes a dot code (readable or not).
This may very well be the reason that holofoil cards were not printed with dot codes to begin with - because the holofoil caused issues with readability; however, this is purely speculation.
So what does this mean?
I am happy to announce that with all of the above now scanned and archived, we have now preserved every single dot code card in the entire Nintendo e-Reader library!
We had succeeded at our initial goal!
However as you might remember, we extended our goal to include e-Reader cards that don't have a dot code on them.
More details about the specifics of this extension can be found in our third blog post.
As such, we've got a little bit left to cover…
Missing Cards
Now it's time for a progress report.
Where does the e-Reader Project stand currently?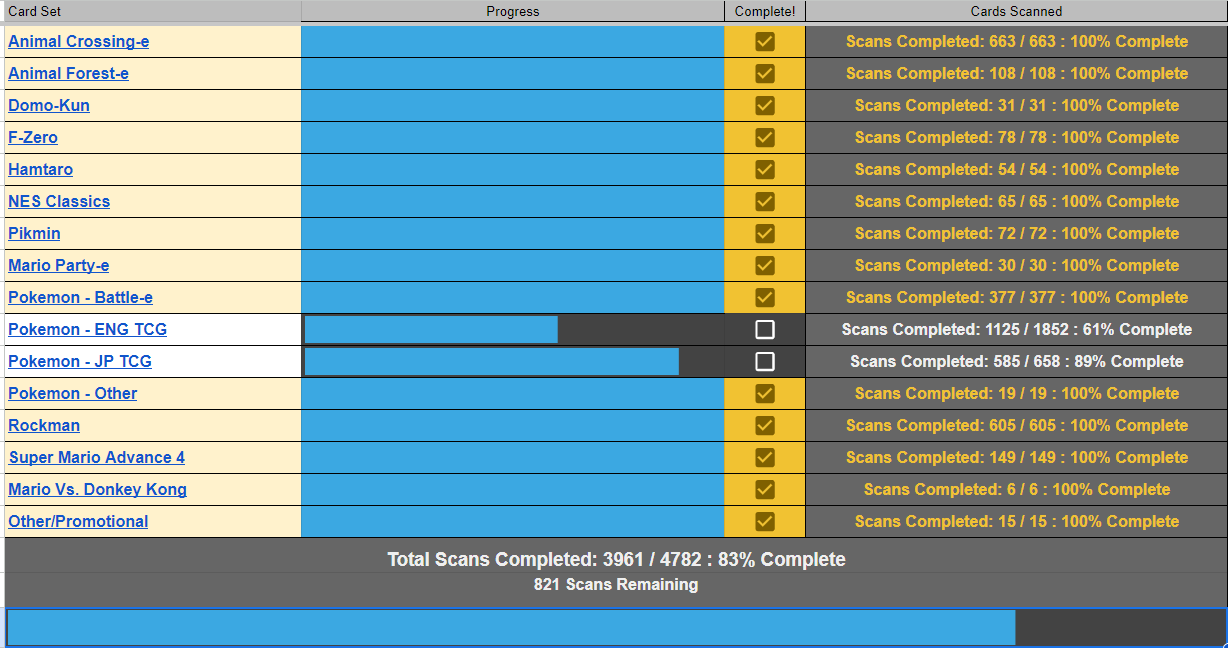 Above you can see a screenshot from our internal spreadsheet. It lists the percentages of the sets we've completed and the sets we've got left to do; with each variant being treated as a separate card. These percentages do not include prototype cards, only those which have been officially released (prototypes have a separate section on the spreadsheet).
We've now finished covering every single e-Reader set aside the Pokémon TCG, and this count is after we expanded our scope!
Of the remaining 821 cards left to scan, 1 of these is yet unsourced: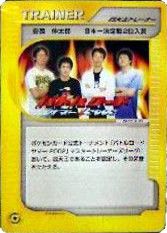 We've not addressed this card at all in the past, but it's actually another piece of the Battle Road 2002 prize card set, just as rare as the rest of the trophy cards.
It was given to the finalists of the tournament, those who placed right at the top.
Unlike the other prize cards however, this one does not feature dot code information on it.
There is also a variant of this card which features the silhouettes of what appears to be the Elite Four of Pokémon's Johto region, and another which has a photograph of one of the finalists - there are potentially additional variants like this.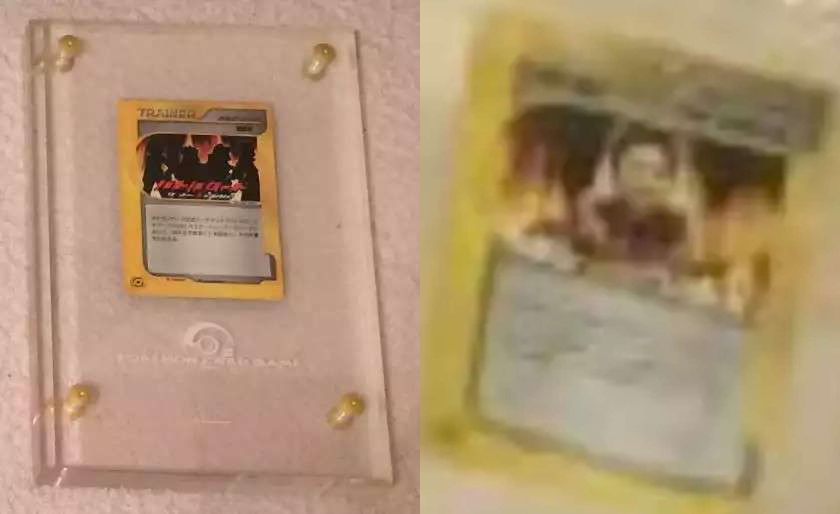 While it would be nice to scan all variants, we hope to be able to scan at least one of these for consideration of the completion of the project.
So, if you or somebody you know happens to own this card, please get in touch!
We hope to work with Ben & Rose of Player 1 Services to scan the other remaining 820 Pokémon TCG cards after they obtain them in both English and Japanese - stay tuned for more and what will hopefully be the final leg of the journey!