Guest blog post by The e-Reader Crew
On February 10th, Hit Save! & The e-Reader Crew launched a fundraiser to help aid in the preservation of Nintendo e-Reader Cards through archival quality scans.
The goal? To raise $3,000 over the course of a month.
When constructing this fundraiser, we weren't sure what to expect of the outcome.
Then, along came March 10th, and we were completely blown away by the support and interest of the video game preservation community – having fully reached our funding goal!
A huge and extended thank you goes out to everybody who supported and donated toward this preservation goal!
An additional special thank you goes out to the exceptionally talented streamers who streamed to raise money on our behalf in early March.
Of course, there's no better way to show our thanks than to follow through with our preservation efforts; and today we invite you to take a look at the progress we've made so far, much of which would not have been possible without your help!
After the conclusion of the fundraiser, we have been hard at work; not only with scanning cards, but also in tracking them down.
While we already had plenty of cards between us in the e-Reader Crew, there were several that we could not account for, both inside and outside of No-Intro's Undumped List.
This would prove to be the hardest, but also one of the most uplifting parts of the project.
We started with an internal spreadsheet with a list of every e-Reader card known to exist. This made for better record keeping, allowing us to mark down every card we had between us.
Having this would prove to be useful for assigning card scanning tasks, but just as much so for identifying those which we were missing. We'd already been searching for some of the more common missing cards before the fundraiser announcement, but we still had a few to go. Namely, they were the art-only character cards from the F-Zero and Rockman sets.
While somewhat common by e-Reader standards, this doesn't necessarily mean they often pop up on auction sites ready for purchase. We started reaching out to members within those communities, and it's thanks to their generous efforts that we've now managed to account for these cards in full!
A theme we'd begin to see a lot more of as time went on…
The first purchase we made with the funds received from the fundraising campaign was another Epson Perfection v600 Photo scanner. This scanner would act as a loan scanner to be sent out to those with particular cards of interest who might not be able to send cards our way to scan.
We'd ship this scanner alongside an e+ Pro, an e-Reader placed into a custom-printed shell we previously talked about in the fundraiser post, designed to be able to read the data on cards from inside a grading case.
That way, we'd be able to view the contents of the card, as well as obtain a high-quality scan.
With that, let us introduce Qwachansey, an avid collector of the Pokémon Trading Card Game, but with a twist. You see, as his name suggests, he has a particular interest in cards which feature the Pokémon Chansey.
It just so happens that Chansey appears on some of the rarest and most elusive cards in the e-Reader library – The 2002 Battle Road trophy cards were a set of.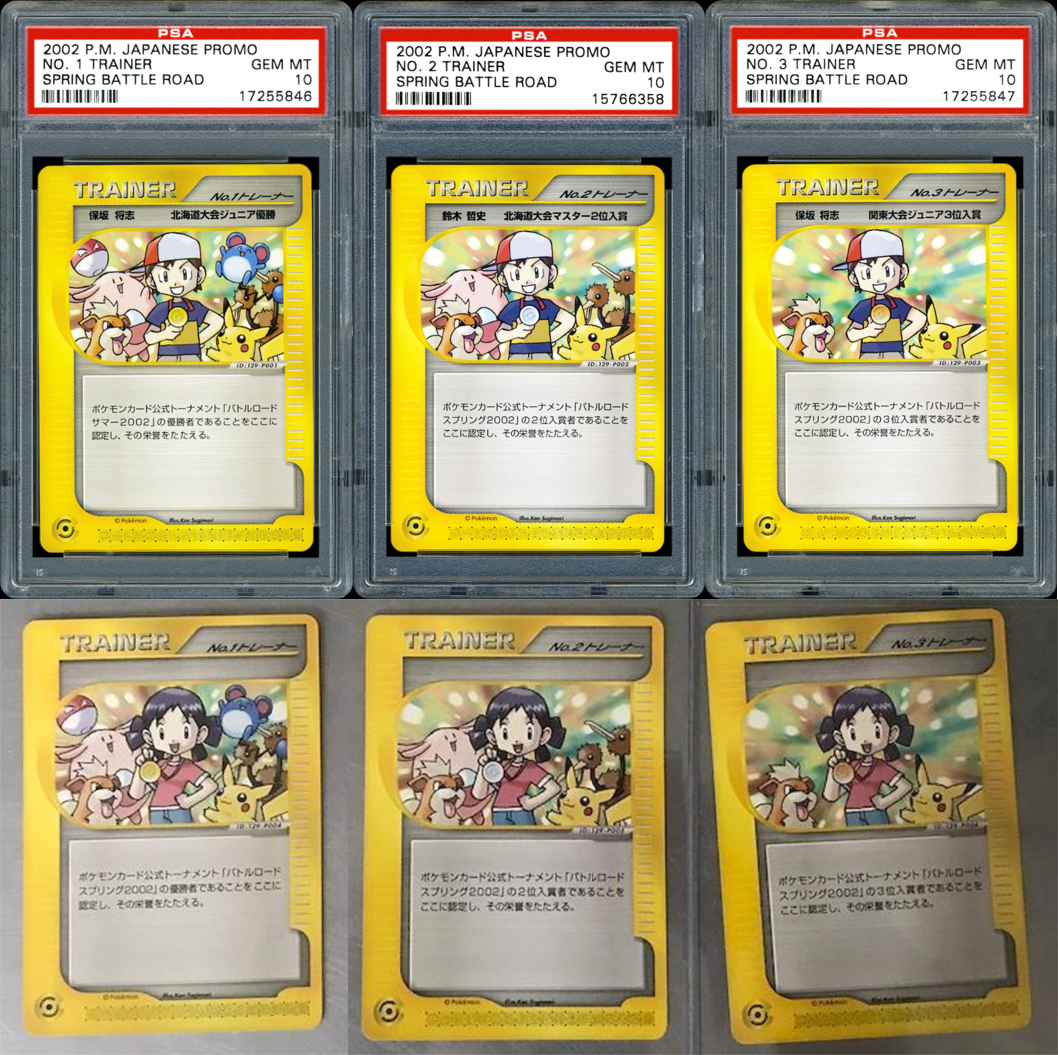 Specifically, the 1st and 2nd place variants.
The 2002 Battle Road trophy cards were a set of Trainer cards that were awarded to competitors placing in 1st, 2nd, and 3rd positions in the 2002 Battle Road Trading Card Game tournaments in Japan.
The tournaments were held during both the Spring and Summer of that year in several locations: Hokkaidō, Tōhoku, Kantō, Chūbu, Kansai, Chūgoku/Shikoku, Kyūshū, and Tokyo.
The tournaments were open to both men and women, and boys and girls, and the cards awarded to these competitors would reflect this.
Women and girls would receive a female variant card, while men and boys would receive a male variant.
The text on the trophy cards would also note which season (Spring or Summer), region, and tournament position the winner competed for.
The artwork on the card also featured more Pokémon the higher the position the winner placed in.
According to a post by user chok on the popular Pokémon Trading Card forum 'Elite Fourum' (or 'efour'/'E4' for short), here are the total number of 2002 Battle Road Trainer trophy cards that were officially distributed:
No.1 Trainer: 4 Female cards | 50 Male cards
No.2 Trainer: 3 Female cards | 51 Male cards
No.3 Trainer: 8 Female cards | 100 Male cards
It turned out that Qwachansey was not only an avid Chansey collector, but also an all-around great guy. He happened to own 1 of these 50 Male No.1 Trainer cards (Now 2!), and was willing to allow us to preserve it after it had been graded by the grading company CGC.
And so in late March, we sent the loan scanner and an e+ Pro to Qwachansey to begin the preservation process. We made this particular e+ Pro shell with gold colored filament as RevZ, the designer and printer of the shell, had some leftover gold filament, and we also thought it would be fun for a 1st place trophy card to be swiped into a golden e-Reader.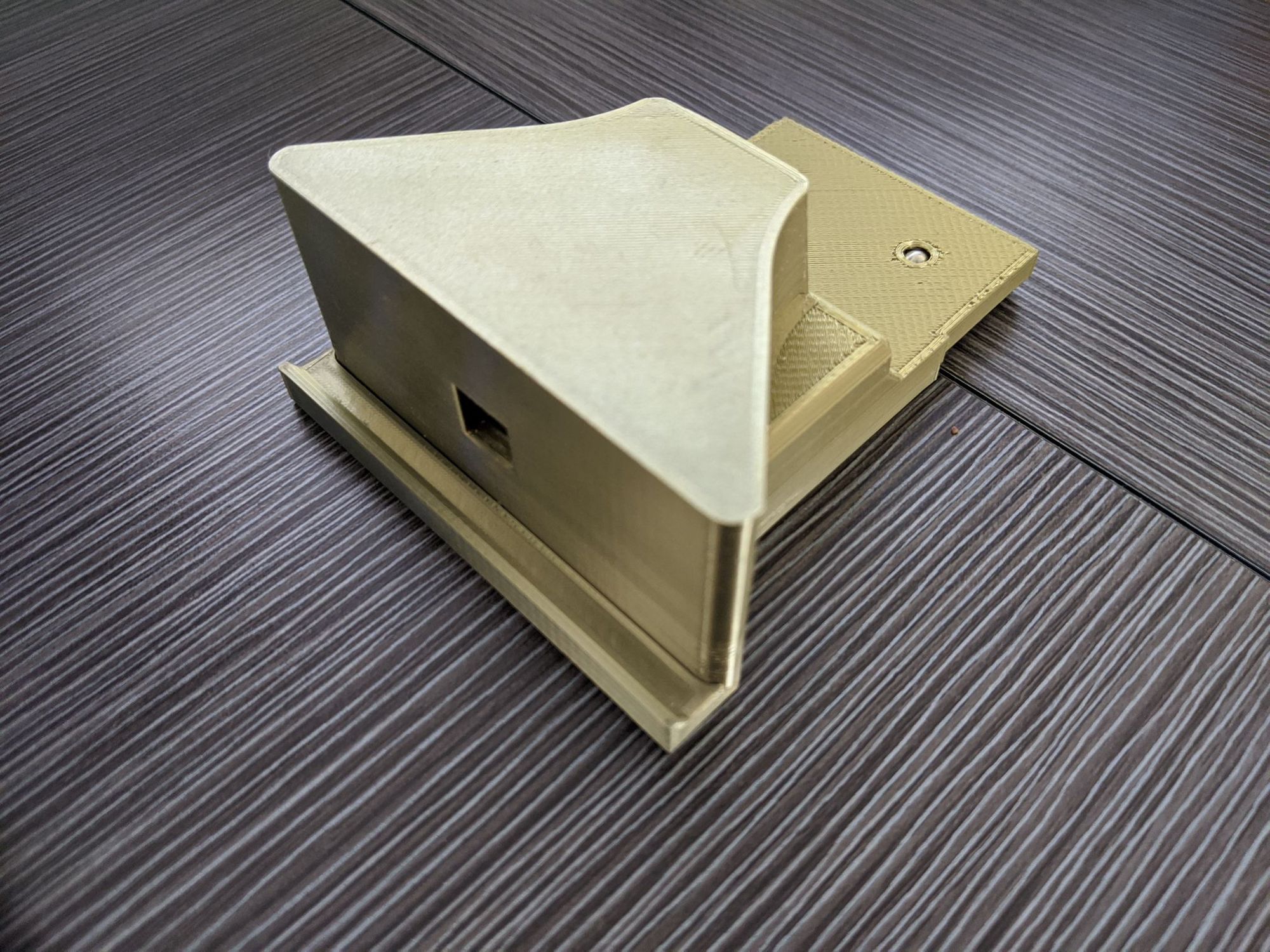 Sadly, the fun and games soon came to a halt when it was discovered that Qwachansey's trophy card didn't fit into the e-Reader despite the custom shell specifically being designed to fit graded cards.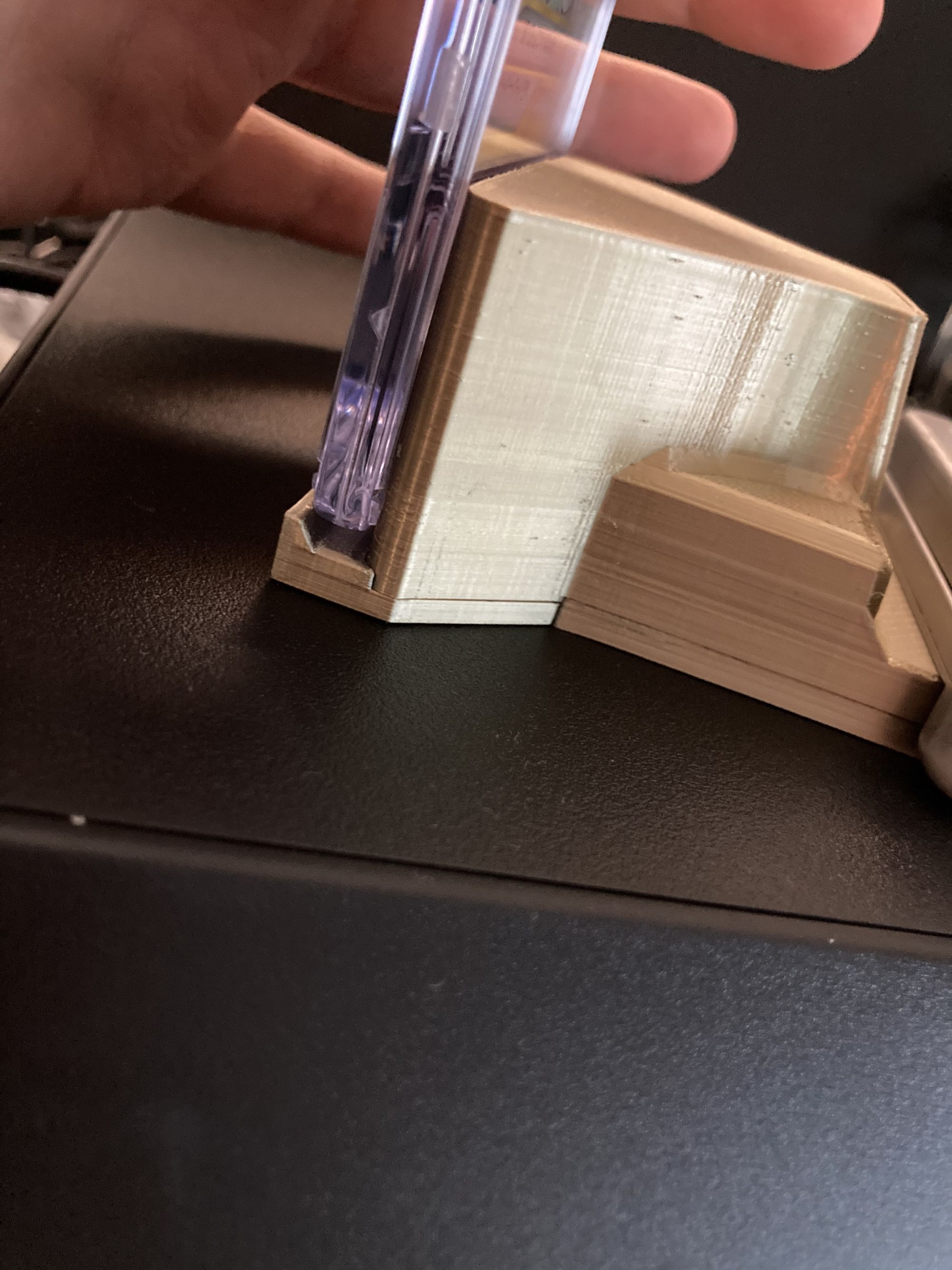 As it turned out, CGC had recently designed a thicker case which no longer fit into the card slot. Unfortunately, thickness wouldn't be the only obstacle here. The added thickness came from the front of the case having a raised plastic edge around the entire perimeter of the card.
Previous grading cases all had the card placed close to the front of the case. With the extra acrylic in the way, our measurements were out of range for the focal length of the camera that rests inside of the e-Reader.
This was quite the blow with everything else already being in place. The scans came out nicely (which would prove useful later), but our job would only be half done without the ability to view the actual data stored on the card.
With little in the way of options, we asked Qwachansey to remove pieces from our custom shell with a hobby knife in the hopes that it might make the card readable.
Several pieces of the e+ Pro were cut away, but unfortunately it didn't seem to help.
That was until we proposed one last trick – destroying our custom shell entirely, and exposing the camera on the inside.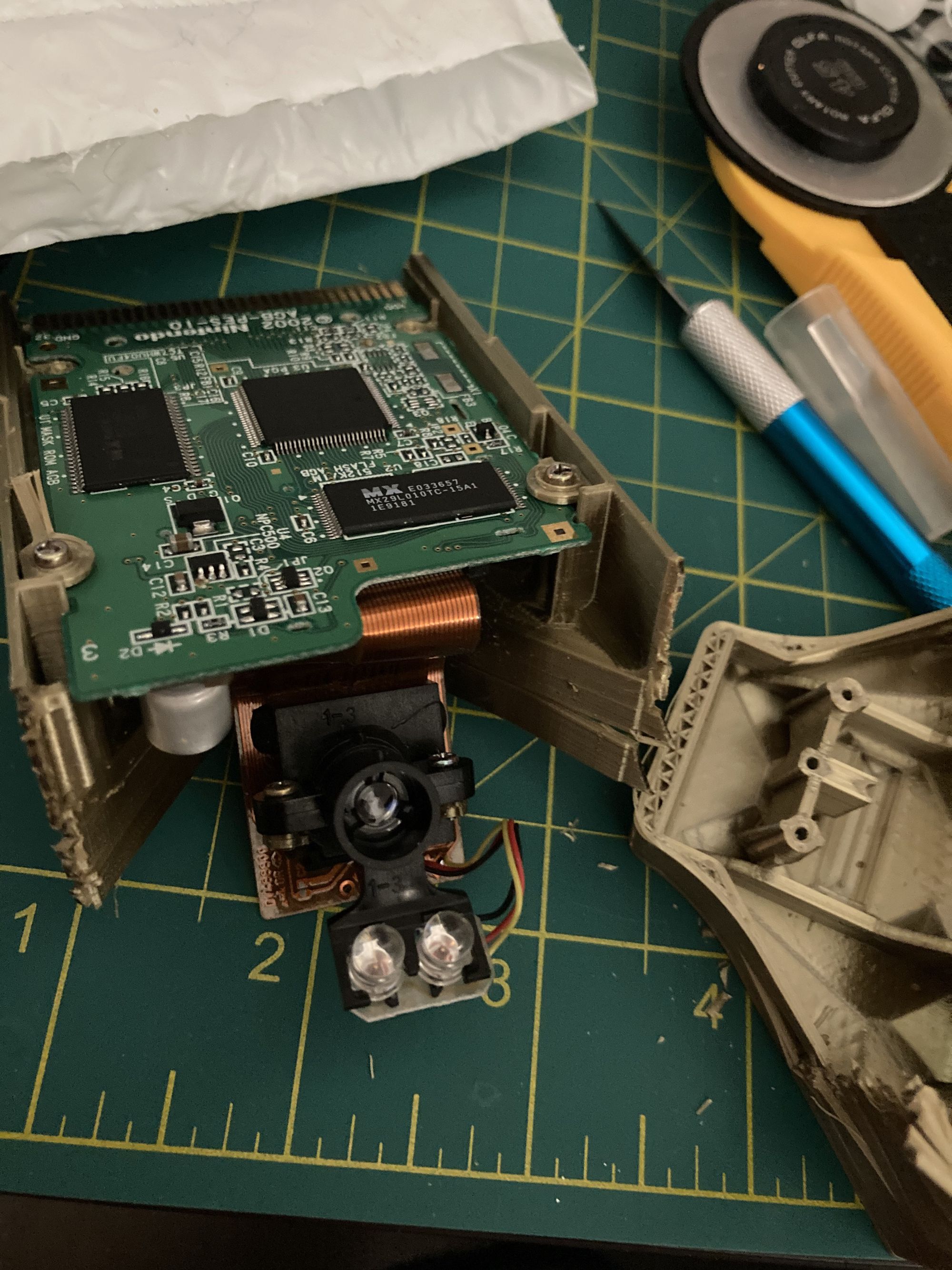 While not the prettiest sight, there was some method to this madness.
Before the creation of the e+ Pro to test that such a concept would actually work, we disassembled an e-Reader and tried to read a card using just the camera alone.
And it's certainly possible, but it requires a very steady hand and a lot of patience.
The e+ Pro shell simply exists to keep the card at the correct distance and ensure a steady hand.
Patience, however, was something our friend Qwachansey would seem to have a lot of.
He spent a great deal of time that evening manually moving his trophy card in front of the e-Reader's camera. He even elected to employ a spirit level to manoeuvre the camera into different angles in hopes of eventual success.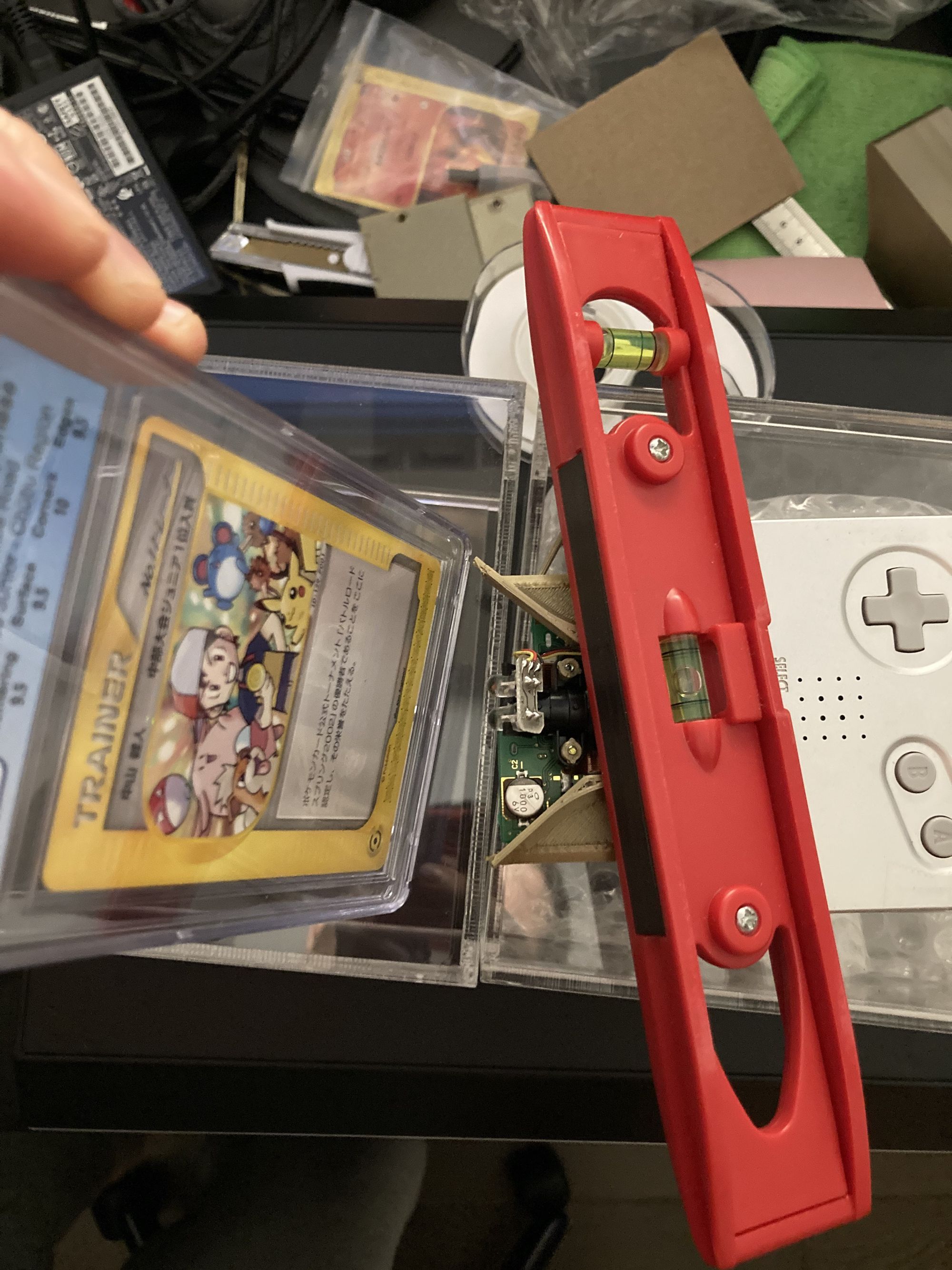 Until, eventually…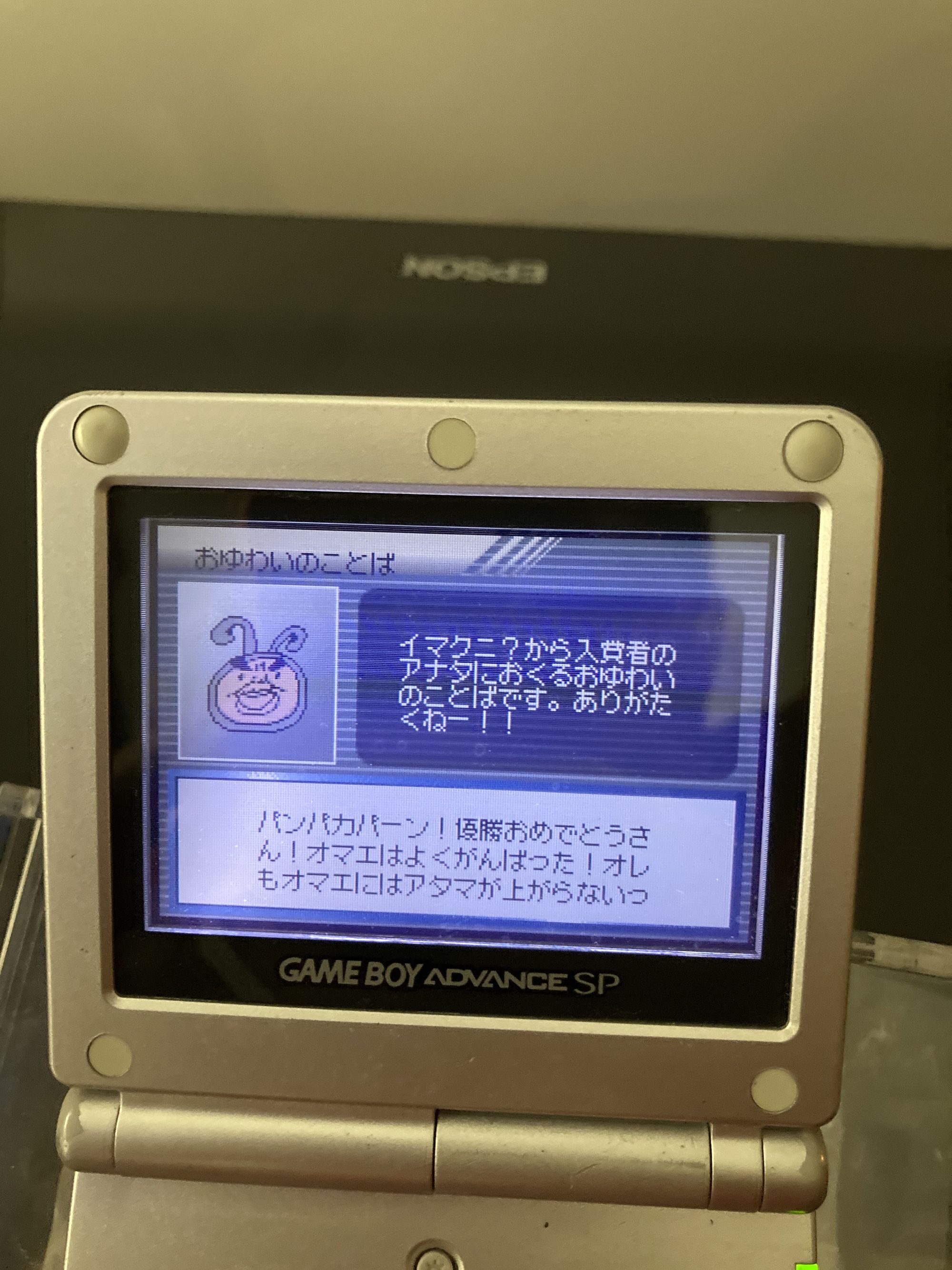 Success!!
For perhaps the first time in nearly 20 years, and for the first time visually documented on the internet, a 2002 Battle Road trophy card had been read by an e-Reader!
Qwachansey has kindly uploaded footage of the full contents of the No.1 Trainer trophy card to his YouTube channel for all to see:
When read by the e-Reader, the card features some humorous pixel art of popular Japanese Pokémon musician/prankster Imakuni. His lips move as the A button is pressed, congratulating the player for winning the tournament.
Here is a (very rough) translation of what he says provided by the translation software DeepL:
"Words of Conviction

This is a message from Imakuni? Here are some words of encouragement from Imakuni to you, our subscribers. Thank you!

Pampaka-pampan! Congratulations on your victory! You've done a great job! You've done a great job, and now I can't get enough of you! I'll be looking forward to working with you! Champion!"
If you're interested in seeing more of Qwachansey's collection, you can follow him on his Instagram where he regularly uploads pictures and trivia about his cards.
Based on this experience, we have made small changes to the design of the e+ Pro.
While it still might not be able to read cards from the newer CGC case design, we are happy to report that it works flawlessly with PSA cases and older case designs.
As such, we have already begun printing more e+ Pro with the new design in hopes that other collectors might come forward and help preserve the remaining missing trophy cards!
For those interested in printing their own e+ Pro shells, RevZ has kindly uploaded the files (in STL format) to his GitLab repo where they are available for anyone to download:
As for the loan scanner, it has now been shipped out to help preserve an equally unique card we hope to be able to talk more about in the near future.
We've also been able to account for several other cards through auctions – some proving more difficult than others.
These were primarily very rare Rockman ('Mega Man' in the west) cards which were also missing from No-Intro's undumped list.
The first of these was 'Serenade' (or 136-C003), a promotional Rockman EXE 5 card which was only distributed to those who purchased Rockman EXE 5 – Team Colonel from a Toys"R"Us store in Japan.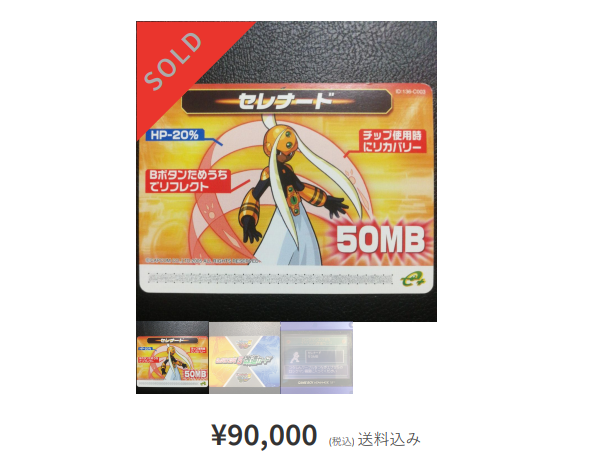 Then came 'Dream Bit' (136-A018), a regular but rather popular card in the Rockman EXE 5 – Part 1 set.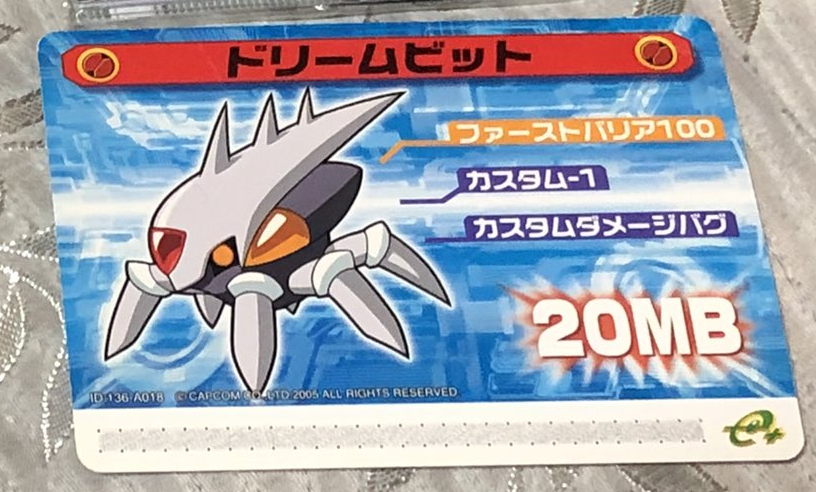 We didn't directly obtain this one through an auction, but rather, through a trade.
Thanks to a rather prominent and helpful Japanese e-Reader card collector, we were able to trade this card for a complete-in-box copy of Mario Party-e, a game which was exclusive to the western market.
A complete boxed version of Mario Party-e contains 64 e-Reader cards (some of them art-only) for use with the included Mario Party-e board game.
Lastly, there was Planetman (137-A039).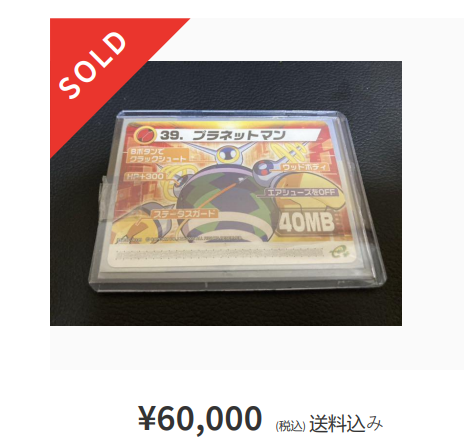 Planetman is a highly sought after and powerful Rockman EXE 6 – Part 1 card which grants powerful effects for a small in-game cost.
The hash information (digital fingerprint) for each of these cards has been submitted to Dat-O-Matic for verification and archival purposes and as such have since been removed from No-Intro's Undumped List.
One more card was ticked off this list thanks to a member of the e-Reader crew having personally purchased it before the start of the fundraiser.
This card is 'Gospel' (136-C002), a promotional Rockman EXE 5 card and a counterpart to Serenade in that it was only available through the purchase of Rockman EXE 5 - Team Colonel through a store called "Ito Yokado".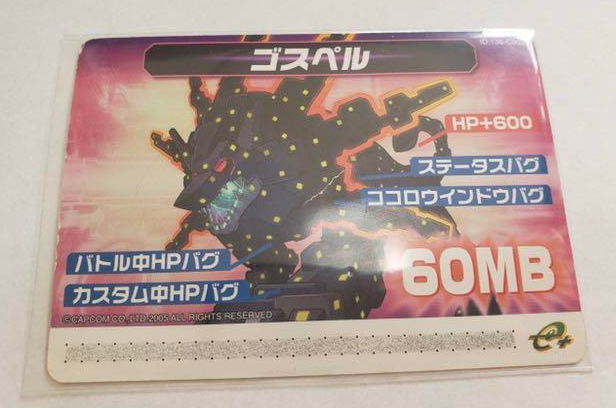 At the time of posting this blog, this leaves just 2 Rockman cards in No-Intro's Undumped list and also our missing list:
Numberman (137-A031), and Punk (137-C001).
The latter of which was available through a lottery held in an issue of CoroCoro Magazine of March 2006.
Only 3000 copies of this card were printed.
This same member of the e-Reader Crew graciously purchased these cards many months ago, and are currently held up in Japan, but we hope to be able to preserve them soon!
As explained earlier, one challenge we face with the preservation of these cards is the requirement to obtain both a scan as well as physically reading the card through the e-Reader to show the card's functionality.
Much to our excitement this requirement would go on to be largely reduced thanks to a programmer named endrift.
If you haven't heard of endrift, there's a chance you might have heard of one of their projects:
A Game Boy Advance emulator called mGBA.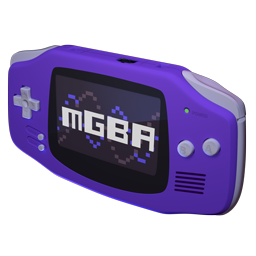 On March 28th 2021, endrift released version 0.9.0 of mGBA, which included fully-functional e-Reader support among other things. Soon after the release of 0.9.0, new features were added to the in-development build of mGBA, 0.10-dev.
This gave users the ability to personally backup the data of e-Reader cards in their own collections through high resolution scans.
To do this, the user must scan their card at a high resolution, crop around the dot code, and then save it as a separate image.
This image can then be converted into the RAW file format via the File Menu, which is natively compatible with the emulator.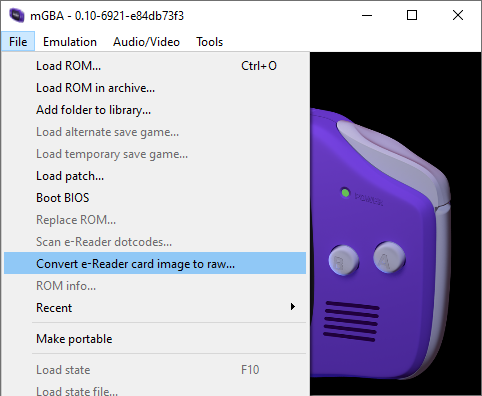 This feature is still in the early stages of development and doesn't always fully represent the dots on the card itself, but it is functional.
endrift has stated that this feature will continue to be improved upon, hopefully allowing for more accurate conversion in the future.
We hope and plan to utilize this functionality in the future, allowing for quick and convenient hash verification to be submitted to Dat-O-Matic.
endrift would not be the only developer who would have some influence on the direction of the project.
MultimediaMike, a fellow preservationist and contributor to the MobyGames database, released a tool on May 25th 2021, aptly named MobyCAIRO.
MobyCAIRO is a python-based image rotation and cropping tool built using the OpenCV Library.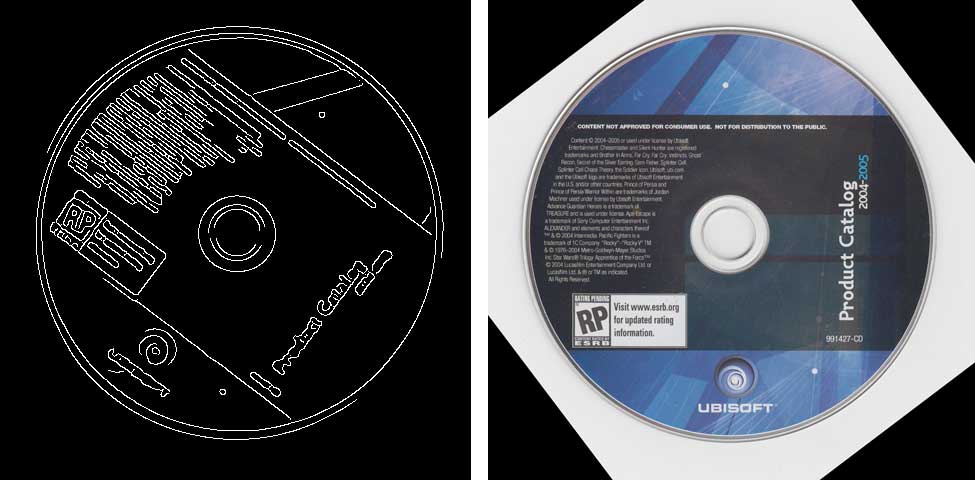 To quote Mike on the subject of the software's name:
"The 'CAIRO' part stands for Computer-Assisted Image ROtation, while the 'Moby' prefix refers to its role in helping process artifact image scans to submit to the MobyGames database."
Mike developed this tool as a way of automating a large workflow of over 2100 images he had scanned for the MobyGames database; automating what was otherwise potentially thousands of hours of manual labor.
A far more detailed write-up of the development process of MultimediaMike's MobyCAIRO tool can be found on his website, which we highly recommend reading for those interested.
Upon the discovery of this tool and the huge amount of potential time we could save with it, we promptly reached out to Mike in hopes that he might be able to add some changes to MobyCAIRO to help tackle the many thousands of high-quality image scans we'll have once the scanning portion of the e-Reader Preservation Project comes to a close.
Mike very kindly agreed, and we are working with him in hopes of automating almost the entire end-half of the project.
This would involve the following:
As we've previously mentioned, we are using an acrylic guide to keep all of our cards as straight as possible.
Since we are scanning at such a high resolution, keeping things straight on a micro-level is a very difficult (and somewhat unrealistic) task. With the help of a tool like MobyCAIRO, we could correct for these small degrees of inaccuracy.
This would be a two-stage process.
First, we'd crop around the now correctly rotated card, including the rounded corners, to remove the background and add a transparent layer to the image.
This may seem simple at first, but accounting for smooth rounded corners is not as easy as one might first think.
Mike is hoping to experiment with some of OpenCVs contour features which (in layman's terms) should allow for the calculation of the shape of a card based on the distinction between its outline and the background.
It's perhaps better described in image form with this example from the above documentation:

This would hopefully allow each card to be cleanly cut-out without any manual intervention at all.
Furthermore, once a copy of the cut-out image has been saved, we hope to be able to identify any dot codes a card may have on the front, and crop those out into separate image files.These dot codes would then be rotated in accordance with their positioning on the card – as they would be if they were being swiped into the e-Reader.
If successful, we would then be able to take these dot code images and use them in tandem with endrift's development build of mGBA to verify the hash information of every available card within the e-Reader library!
While this would of course be a big game changer for the project, it is important to stress that these features are still in the early development stages, and no promises can be made as to their completion.
With that, we conclude the current update of what we've been up to.
We'd again like to thank this fantastic community for their support and enthusiasm. We hope that this little window into the recent events of the project has been as interesting to read as it has been for us to go through.
As of writing this post, we're now about halfway through the scanning of the available e-Reader library.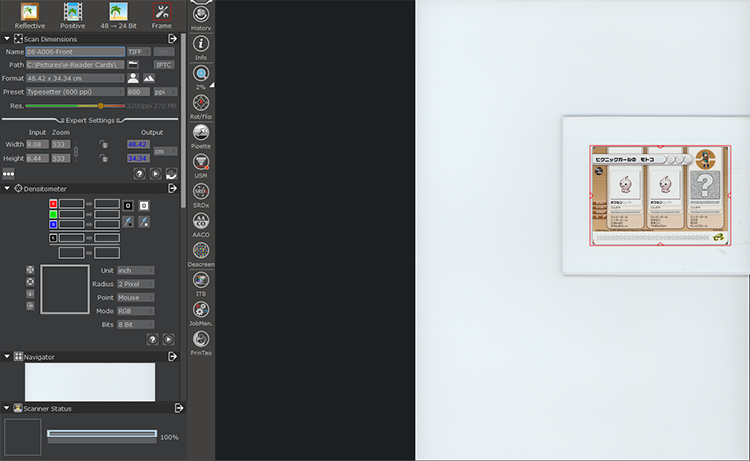 It may be some time before this process is finished, but we hope to update you with further good news in the future.
- The e-Reader Crew