Earlier this year we sat down with three members of the Wintermoor Tactics Club development team: Ben Walker, Kyla Fury, and Ryan Anderson.
Ben Walker, team lead and programmer, previously worked at game studios such as 343 Industries, and Microsoft Studios. At Microsoft he started out working on the Kinect, then went on to be a part of the development team for Halo 5. After Halo 5, he quit and started an indie game studio to create the game that became Wintermoor Tactics Club (WTC).
Kyla Fury, one of 2 writers on WTC, grew up always wanting to be a writer from a really young age. At 16 she got Final Fantasy X and the first Kingdom Hearts game, and said "Hey! Look! Games can tell stories now!". So she became more interested in games as a medium to tell stories, and after getting her MFA from University of Southern California she worked on various indie games (one was an MMO screensaver which eventually ended up becoming theBlu), and eventually got pulled into WTC by some friends.
Ryan Anderson, combat designer, attended UC Santa Cruz's computer science game design program, and a week before graduating they landed a job as a game designer at a F2P mobile company. There they did a lot of level design on bubble shooters, then close to 2 years at a robotics company working on toys-to-life. The profit-driven nature of F2P drove them to focus on other types of work, and was introduced to Ben, which led to a part-time combat design role for WTC - a first chance to really work on an indie project, have more ownership of their own work, and make the best game possible.
Wintermoor Tactics Club is a fantastic tactics game, with a focus on accessibility so players from all skill levels can enjoy the game and it's rich story. As you walk around the school, you will explore Wintermoor and engage with characters in visual novel-inspired gameplay. As you progress through the game, you will write tabletop campaigns to help students overcome their personal problems, and discover their fantasy selves as your club grows.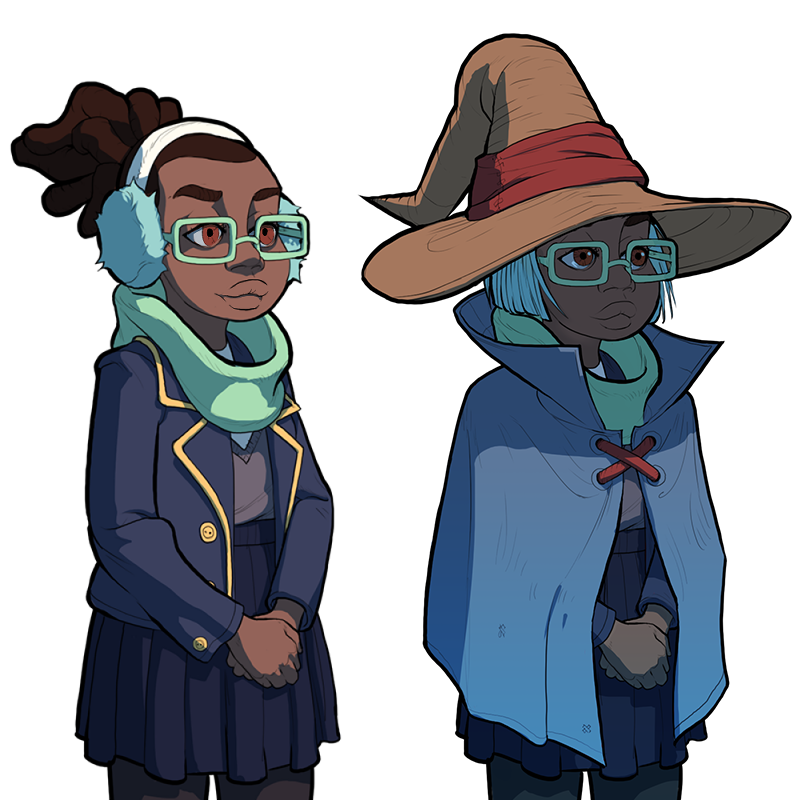 The main character is Alicia, a young black girl attending Wintermoor Academy, trying to make friends and survive school. The official description reads:
It was hard enough for Alicia to make friends at prestigious Wintermoor Academy before the whole school erupted into a snowball tournament! Now, her tiny Tactics Club must transform from nerdy nobodies into the heroes they play in their tabletop campaign, or they'll be disbanded forever.

Discover the sinister truth behind the War of the Clubs in this cozy tactics RPG. Test your strategic mettle against an avalanche of strange and colorful characters. And don't forget to make new friends!
WTC started as a 2-people team with a plan to ship a game in 6 months, and then grew to a 10-people team (6 core team members + outsourced contractors) who worked on the game for 3 years and 9 months. In the interview we dig into the day-to-day work, the stories, the combat design, and much more.
Check out the full interview (with chapters!) here:
Design documents
We are also super thrilled to be able to share design documents from the game with you all!
The WTC team has shared a lot of documentation from the development of the game, and we are able to make parts of them public for everyone to see:
Story documents, including flowcharts, cutscenes, side quests, names, and much more
Design documents, location lists, character sheets, combat design
Localization documents, style guides, notes for the localization teams
Music, battle music, club themes, lyric ideas, OST
Game screenshots, GIFs, portraits
Special folder with Kyla's artwork, description by Ben:
"Kyla's our writer, we had a bit where Alicia (main character) shows Batu (equestrian club member) a drawing of a horse she made, but you can pick the horse's D&D theme earlier in the chapter. She felt she was appropriately skilled for "16 year old who daydreams about D&D" and so drew those. They ended up in-game, too."
Podcast and interview transcript
Checkout the podcast at Anchor or your favorite podcast service.
If you want to read the full interview we have it fully transcribed at https://github.com/hitsave/interview-transcripts. Automated transcription services aren't perfect so there will be errors, if you want to help us fix those errors please reach out!